With holidays being put on pause for the last year, most of us are experiencing a serious lack of vitamin D. Since we haven't been able to go out and get the real deal, instead we have been turning to our favourite tanning products to give ourselves a much needed faux-glow.  
While many people associate tanning products with fairer skin tones, there is a glow-boosting formula out there for everyone. Whatever your hue, bronzing from a bottle is a great way to enhance your natural skin tone, or give your complexion a sunkissed boost. 
If you're unsure which tanning product or shade is the right one for you, then look no further. We caught up with Jill McLean, Global Brand Educator at Vita Liberata to hear her top tips for choosing, applying and preserving fake tan on medium to dark skin tones.  
Can you wear fake tan if you have a medium or dark skin tone?  
Absolutely! Using a good quality tan can make any skin tone look more hydrated and golden and let's face it – who doesn't want more youthful looking glowing skin!  
What are the benefits of using tan on darker complexions?  
Vita Liberata put skin health first so aside from a fabulous tan, our products will transform dull dry skin of any shade to give you an incredible golden glow. With ingredients like Organic Aloe Vera, Shea Butter & Hyaluronic Acid our formulas not only give you a beautiful tan which fades flawlessly but will also hydrate your skin for up to 72 hours. Win win! 
What undertones should you use on medium and darker skin tones?  
Formulated with 100% natural DHA, Vita Liberata tans are up to 90% organic meaning they work with your skin tone giving you a bespoke glow in line with how your skin would react naturally in the sun.  
When it comes to application, some of our tans apply clear and others are tinted with a bronze guide colour to help you see where you're applying it. Needless to say, the latter is great for beginners if you are trying out a deeper shade of tan for the first time!   
What type of tanning formula is best to use on each skin tone?  
The type of tan you use really depends on your personal choice and your skin type rather than skin tone. I would suggest a mousse if you have oily skin or you prioritise convenience and simply want to tan, dress and go.  
On the flip side, if you have normal to dry skin choose a lotion to deeply nourish it. Indulge your skin in our hydrating formulas containing Marula Oil and Shea Butter.  
When it comes to choosing a shade of tan...  
For a sunkissed glow: 
To warm up the tone of your skin with a subtle glow, choose our Gradual tan lotion which is just like a body moisturiser. Remember to wash your hands after applying!  
For a bronze goddess look: 
To step up your colour for Summer - choose a medium tan like our brand-new Heavenly Elixir for a result 2 shades deeper than your natural skin colour. Always use a tanning mitt to apply, and if you want an even deeper tan next time, try a dark or extra dark tan from our range.  
For a show-stopping glow: 
If you have a wedding, event or family BBQ coming up and want that celebrity glossy-skin look - try our Body Blur skin finish. It's a zero-commitment body make up, just wash off when you want. Try our Latte Dark and Mocha shades, these are divine on medium to the darkest of skin tones!  
Any other tips or advice? 
Apply SPF every day, on every part of your body that is exposed. Even in the UK damaging UV rays are still present so this is a vital step to build into your routine. Skin cancer does not discriminate based on skin tone so let's take care of our skin with a safe sunless tanning routine.  
If you are a tanning newbie: 
Exfoliate well before application focusing on areas of dry skin like knees, elbows, underarms, hands and feet using an oil free skin polish. A vital step for an even tan! If these areas are particularly dry, pop a little of our Moisture Boost lotion on before tanning too.  
If you are tanning in summer: 
Vita Liberata Gradual tan lotion is a great after-sun body moisturiser with a soothing organic aloe vera base. A great one to keep beside your shower all Summer to rehydrate your skin & gradually build your glow!  
Discover our full range of fake tanning products on LOOKFANTASTIC.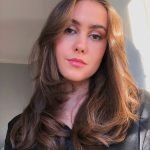 As someone with an affinity for all things beauty, discovering fantastic new products is my not-so-secret obsession. Over the years I've tried and tested a mountains worth of creams, serums and cleansers, finding some of my favourite 'holy-grail' products along the way. However, I'm always on the lookout for more ways to nourish my hair, perfect my dewy base, or enhance my skincare routine. Working as a beauty blogger for over 3 years, I've been lucky enough to collaborate personally with lots of amazing beauty brands including Christian Dior, The Body Shop and Dermalogica. I've used the Dermalogica special cleansing gel religiously since I first got it and their products are some of my ultimate skincare faves. When it comes to cosmetics, NARS Sheer Glow foundation is definitely my go-to - I live for a light, glowy base!