The world slowly opening up again means more time spent out of the house, which also means more time spent wearing a mask. Whilst our favourite pubs, restaurants and salons are back in business, mask-wearing is still just as important as ever to keep you and others safe. The problem is that although masks are good for public health, they can spell bad news for your skin. With increased irritation and the spread of bacteria, masks can create a breeding ground for blemishes, acne and clogged pores.  
If you're sick of masks wreaking havoc with your skincare routine, discover our top tips to help you live in harmony with your facial covering, and learn how to banish the dreaded 'maskne' once and for all.  
Wash your face before and after 
Washing your face morning and night is the basis of every great skincare routine, and with masks now being a staple in our #OOTD, this crucial step just got even more important. In a nutshell, the best way to banish maskne, or indeed prevent it from becoming a thing in the first place is to keep your skin, and in turn your mask, as clean as possible.
By washing your face beforehand, you minimise the amount of bacteria and dead skin cells rubbing off onto your mask, whilst washing skin afterwards can cleanse away any excess sweat, oil or impurities caused by breathing into an enclosed space. 
To treat your maskne, opt for a gentle foaming cleanser to treat skin without causing redness or irritation.  
Wash your mask regularly 
Even the best skincare routine won't do much to save your complexion from a dirty mask. Face coverings are the ideal place for bacteria to spread, so it's extremely important that you wash yours in between every use. 
If using a reusable mask, make sure to wash it using a fragrance-free detergent to avoid skin irritation and keep it bacteria-free. If using a disposable mask for long durations, ensure to replace it with a new one every few hours, and throw it away after use. 
Try a silk face mask  
Silk face masks are a great alternative to nylon or polyester as it glides across the skin much more easily and reduces the irritation caused by a face covering. Silk is also naturally antibacterial, so it's ideal for keeping your skin as clean as possible!* 
Avoid wearing makeup under your mask  
Going bare-faced under your mask is one of the best ways of reducing the buildup of bacteria and impurities on your skin. If you're keen to even out your skin tone but want to keep your acne at bay, try wearing a tinted SPF or moisturiser instead to keep your skin protected from the sun, soothe it with nourishing ingredients, as well as getting some natural coverage.  
If you really need to wear makeup under your mask, opt for non-comedogenic makeup which is specially formulated to prevent blocked pores and reduce acne or blemishes. Discover some of our favourite non-comedogenic products below. 
Fight maskne with masks  
When it comes to winning the battle against acne, sometimes you have to fight fire with fire (or masks with masks in this case). Wearing a mask is an essential, so it's important to maximise your skincare every moment that you aren't wearing one.  
Our skin repairs and rejuvenates overnight as we sleep, so this is an optimum time to apply nourishing masks with key ingredients. Try incorporating masks into your self-care routine a few times a week to boost your skincare regime and keep your complexion clear.  
Use topical spot treatments  
If you're looking for a quick fix solution for your mask-induced pimples, a topical treatment is ideal for you. Applying blemish-busting ingredients to more targeted areas is a great way to treat spots head on, without applying too harsh ingredients to your entire face. 
The even better news is that you can wear blemish patches in public without the fear of funny looks, because your mask kindly covers the area. There's a silver lining to everything! 
Make jade rolling a daily thing
Using a jade roller is a great way to get your skincare products to sink into the skin, whilst soothing your complexion at the same time. Try incorporating a jade roller into your skincare routine to cool the complexion and reduce the inflammation caused by acne and blemishes. Not only is this a great way to make your skincare routine more luxurious, but it allows your skin to absorb products evenly, as well as de-puffing areas of the face where you may experience redness due to blemishes.*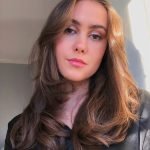 As someone with an affinity for all things beauty, discovering fantastic new products is my not-so-secret obsession. Over the years I've tried and tested a mountains worth of creams, serums and cleansers, finding some of my favourite 'holy-grail' products along the way. However, I'm always on the lookout for more ways to nourish my hair, perfect my dewy base, or enhance my skincare routine. Working as a beauty blogger for over 3 years, I've been lucky enough to collaborate personally with lots of amazing beauty brands including Christian Dior, The Body Shop and Dermalogica. I've used the Dermalogica special cleansing gel religiously since I first got it and their products are some of my ultimate skincare faves. When it comes to cosmetics, NARS Sheer Glow foundation is definitely my go-to - I live for a light, glowy base!