For many people, nail care stops at their monthly trip to the salon. But maintaining healthy fingertips goes beyond simply choosing the colour of your next mani. "As you would have a skincare routine for your face, it's important to have one for your hands and nails," explains Charlie Spence, Essie UK online brand manager. Here are three simple steps to keep your nails in check...
Cuticles are key
"Think of the cuticle like the gatekeeper for the nail," explains Charlie. "[Cuticles] help protect the new nail from any bacteria. Keeping cuticles clean and healthy will help your nails grow longer and stronger."
"We recommend applying cuticle oil around the perimeter of the nail at least two times a day" she explains. "Pushing back your cuticles using a metal cuticle pusher stimulates healthy growth of the nail bed, loosens dry skin, and allows more of the nail to show."
All about that base
Healthy nails start with a strong base. "If [nail coatings] are applied to unprepped nails, worn for too long, or removed too hastily, damage can occur," says Rita Remark, celebrity manicurist and Essie global lead educator. "If your nails are dry, peeling, or brittle, use a treatment which creates a protective barrier against daily wear and tear."  
"If your nails are especially brittle, this is also a sign of unhealthy nail beds," says Rita. "Prevent [this by] regularly moisturising with hand creams and cuticle oil." 
Get hands-on
"An at-home mani saves time, money and has the added benefit of being able to change your colour more frequently," explains Belinda Price, OPI Education Manager. "Always paint on clean, oil-free nails, so wash and dry your hands well before applying colour."
"Nudes remain popular this summer," shares Belinda. "For those more adventurous, expect pops of citrus and fruity colour amongst those summer favourites."
Charlie's trend to watch this season? "It's glazed donut's younger, trendy sister...introducing lip gloss nails. Glossy, jelly, and glazed? Talk about nail goals!"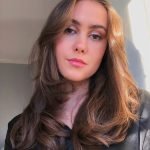 As someone with an affinity for all things beauty, discovering fantastic new products is my not-so-secret obsession. Over the years I've tried and tested a mountains worth of creams, serums and cleansers, finding some of my favourite 'holy-grail' products along the way. However, I'm always on the lookout for more ways to nourish my hair, perfect my dewy base, or enhance my skincare routine. Working as a beauty blogger for over 3 years, I've been lucky enough to collaborate personally with lots of amazing beauty brands including Christian Dior, The Body Shop and Dermalogica. I've used the Dermalogica special cleansing gel religiously since I first got it and their products are some of my ultimate skincare faves. When it comes to cosmetics, NARS Sheer Glow foundation is definitely my go-to - I live for a light, glowy base!