Elevate your beauty regime and find everything you need for an uplifting beauty boost this month. Find inside 10 powerful products from brands founded by trailblazing women in the business of beauty.
Worth over £148, get yours today for just £55! Iconic beauty brands, founded by iconic women.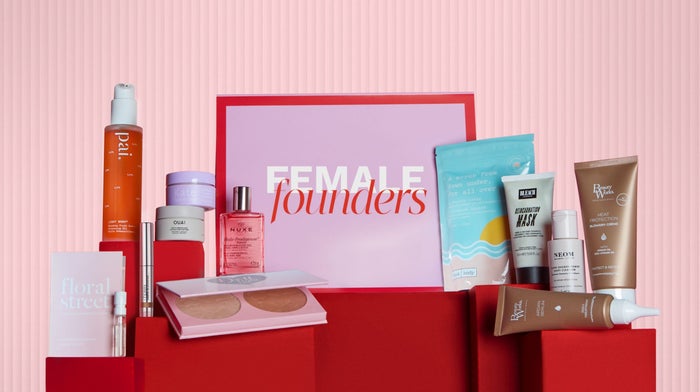 What's in the box?
NEOM Super shower Power Body Cleanser 50ml Start your day with the NEOM Super Shower Power Body Cleanser. Powered by 100% natural essential oils, the body wash works to gently cleanse, nourish and hydrate the skin.
Doll Beauty Highlighter Completely luxurious in its appearance & feel, this highlighter is your night out essential. Don't start your night without your luxurious and highly pigmented highlighter from Doll Beauty.
Delikate Recovery Cream Mini 15ml A breakthrough clinical recovery cream designed to provide lasting relief for stressed skin, diminishing tightness, reducing visible redness & improving skin's protective barrier. Dermatologist tested safe for sensitive skin.
Pai Cleansing Oil 100ml Pai Skincare's delicate cleansing oil works to gently cleanse and refresh your complexion, effectively lifting away dirt and build-ups without stripping it of essential moisture.
OUAI Treatment Mask (Fine/Medium) 30g This mask helps restore hydration, repair damage and add shine to fine/medium hair with shea butter, panthenol and hydrolysed keratin. Shea butter helps to hydrate, soften and condition dry over processed hair.
Frank Body A-Beauty Scrub 200g Flaunt beach-ready skin with the Frank Body Body A-Beauty Scrub; a soil-like body scrub jam-packed with antioxidant power that utilises natural Australian ingredients to brighten skin, fade scars and tackle hyperpigmentation.
Nuxe Huile Prodigieuse® Florale Multi-Purpose Dry Oil 30ml Nurture your skin as nature intended with the NUXE Huile Prodigieuse Oil Florale. Keeping your skin conditioned from head to toe, this rich oil can be used on the body, face and hair.
Bleach London Reincarnation Hair Mask 50ml It's the moisturising mask that's saved hair all over the world thanks to its blend of powerful ingredients which rehydrate and restore dry, damaged, bleached and coloured in just 20 minutes.
By Terry Ombre Blackstar Eyeshadow Stick
Enriched with extract of Tahitian Black Pearl for a smooth glide, the eyeshadow sweeps effortlessly across lids, delivering light-reflecting colour in a single stroke.
Shop some of the products from this incredible box below!
Which will you receive?
Beauty Works Argan Serum 50ml This rejuvenating treatment is formulated with a blend of the finest argan oils, to deeply nourish and hydrate hair, leaving your hair looking and feeling healthy, with radiant shine. Use daily on wet or dry hair to tame frizz and flyaways.
Beauty Works Blowdry Crème 50ml Beauty Works Heat Protection Blowdry Crème coats strands to protect against heat damage. The lightweight crème formula is essential for users that style with heated tools, adding bounce and volume to limp locks without weighing the hair down.
As the Beauty Editor for LOOKFANTASTIC Beauty Box I'm always hunting for a good beauty story, I like to remain ahead of the trends. But aside from this, I'm a keen reader and writer in my spare time. You'll find me with my head in a good book most of the time- Beauty & Fashion related or otherwise! You'll often find me obsessing over the latest tropical-scented body oil or lathering on the coconut moisturiser. As you may have already guessed, I have a natural affinity for all things tropical. Beauty and grooming for me is escapism, a little slice of heaven away from the day-to-day.