Featuring two treatments to tone and firm your face, the Rio Lift Plus will help your skin to maintain a youthful appearance. The faradic facial toning uses EMS (Electrical Muscle Stimulation) which contracts and relaxes the muscles to lift and tighten, whilst increasing circulation and removing toxins to leave your complexion looking bright and refreshed.
Meanwhile, the Galavanic Infusion treatment uses small micro currents to carry vital ingredients needed for skin repair deep into your skin, whilst the lift gel patches contain positively charged collagen and retinol which help to target lines and wrinkles. - L.M.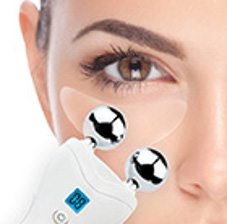 Gentle muscle toning
The Faradic Treatment practised in beauty salons for over 40 years, offers gentle muscle toning to help tighten and tone sagging features in short 60 second treatments using EMS (Electrical Muscle Stimulation). EMS gently contracts and relaxes facial muscles to help tone, lift and tighten and the stimulation also increases local circulation, bringing more oxygen to the skin cells and removing toxins more rapidly.
There are four treatment programmes; Firming, Extended Firming, Tap Toning and Infusion. The first three programmes are faradic and the last, galvanic, with each programme offering a different benefit to your beauty regime.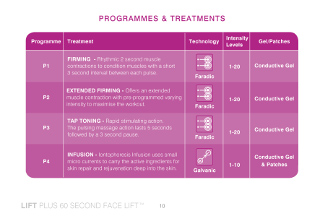 Combat the appearance of fine lines
The Galvanic Treatment uses small micro currents to carry the active ingredients for skin repair and rejuvenation deep into the skin, known as Galvanic Infusion or Iontophoresis, infusing collagen and retinol to help further combat the appearance of frown lines, crow's feet and marionette lines. Your skin will feel instantly refreshed and rejuvenated.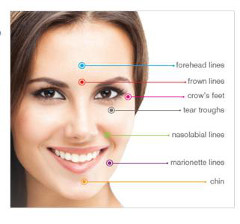 Features:
60 second treatment timer
Advanced faradic technology
Retinol infusion
Lifts, firms and tones
Digital display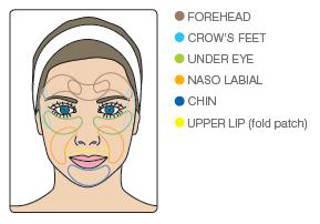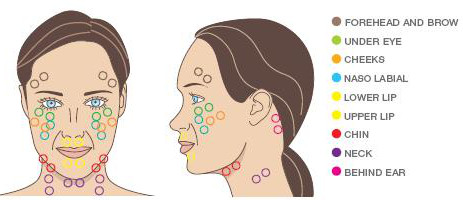 Precautions
This appliance can be used by children aged 8 years and above and persons with reduced physical, sensory or mental capabilities or lack of experience and knowledge if they have been given supervision or instruction concerning the use of the appliance in a safe way and understand the hazards involved. Children shall not play with the appliance. Cleaning and maintenance shall not be made by children without supervision.
Do NOT use if you are pregnant or if you have any of the following: pacemaker, heart disorder, receiving treatment for low blood pressure, epilepsy, multiple sclerosis, or if you are recovering from an operation.
Take particular care of the ball contacts location when moving near the eye. Ensure the ball contacts touching the skin are at least 1cm away from the eye at all times.
Do NOT use on areas of skin with disorders such as rosacea, pustular acne, abraded skin, sensitive skin, or over scars, moles or varicose veins.
If the gel or patches come into contact with the eyes, rinse thoroughly with water. If irritation persists, consult a doctor
Protect clothing and surroundings
For external use only
Contents:
60 Second Face Lift Plus unit
Stand
5 x collagen and retinol packs (2 patches per pack)
85ml conductive gel
Carry bag
9v battery