Achieving fuller looking lipsis a goal for many of us. Whether your lips are narrow or you just want to add a little more volume, simply changing the application of your lip products can help mimic this effect, leaving you with the perfect juicy pout!
Charmaine Gorwill (mua_charmainegorwill) is an international makeup artist and hair stylist based in Cardiff. As a salon owner with over 18 years experience, Charmaine knows the best tips and tricks in the industry to help you create fuller looking lips with ease.
Step 1- Prep (0:11)
The first secret in achievinga Hollywood pout lies within your base. Charmaine suggests that creating a smooth, flake-free surface will help your products glide on more smoothly and last a lot longer as well as getting the blood flowing.The Barry M Cosmetics Lip Scrub is infused with antioxidant-rich Vitamin E and Olive Oil, to help buff away dead skin and create a protective barrier to prevent dryness and chapping.
Step 2- Primer (0:59)
 Once your lips are fresh and smooth, apply the Project Lip Matte Plumping Primer, a volume-boosting formula that naturally improves the fullness of lips whilst prepping them for product application.The non-sticky formula tingles upon application as it stimulates the production of collagen in the skin, visibly increasing your pout size and giving your lips a more defined shape. Priming your lips is key to help your look last all day long. 
Step 3- Lip liner (1:47)
The next step is essential for those who have a thinner lip shape. Start by drawing a straight line over your cupids bow and connect to the outer corners of your lips. By using this technique instead of overlining your whole border, you lips will look fuller and more natural.Opt for a darker lip liner to create a contour effect such as the much-loved MAC Whirl Lip Pencil or the NYX Professional Makeup Suede Matte Lip Liner in shade Cannes.Once you have outlined your border, begin to fill in the base of your lips slightly so your lipstick will blend in more seamlessly. 
Top tip: Make sure your lip liner is freshly sharpened to get a more precise look.
Step 4- Lipstick (3:50)
The trick every makeup artist uses on their clients is to contour using a lipstick. It may seem unnecessary but using alipstick one or two shades lighter than your liner will help to create definition, the same way it does when you contour our face. Apply your lipstick directly to the centre of your lips so it blends in with your liner and creates a highlighting effect. If you're looking for the perfect true nude lip, we recommend the Maybelline Colour Sensational Lipstick Matte Nude in shade Beige Babe. If you want to make a statement, go bold with the Antipodes Lipstick in Forest Berry Red. 
Top tip: Use a lip brush to blend the lip liner into the lipstick for a seamless finish.
Step 5- Gloss (5:20)
The last step in creating fuller looking lips is with a lip plumping gloss. This multi-functional product can be used to make your pout fuller whilst acting as reflective sheen. The Insta-approved Too Faced Lip Injection Extreme Lip Glossis infused with Marine Filling Spheres and Atelocollagen, allowing the product to offer a striking and replenished appearance. Deeply nourishing Avocado and Jojoba Oils work to lock in moisture for long-lasting, touchable softness, whilst powerful Vitamin E distributes effective antioxidants across your lips.Another great limp plumper is the Duwop Lip Venom. This pout perfecting gloss gives you the ultimate 'bee-stung' effect with one sleek sweep. Loved by Lindsay Lohan, Jennifer Aniston and Sienna Miller, this is a must for your makeup bag!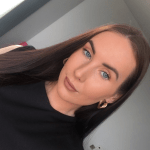 As a beauty fanatic I'm always on the lookout to try and experiment with new products! I've been writing about everything beauty for over 3 years and specialise in skincare so have plenty of tips and tricks to help put blemishes at bay and get your complexion glowing. Whilst being a content writer at LOOKFANTASTIC I've had the opportunity to collaborate with incredible brands including Tom Ford, Dolce & Gabbana and La Mer, taking my understanding of the industry to the next level. In the past I've been a freelance makeup artist and have collaborated with brands including NYX and Revolution Beauty on a personal level, sharing my makeup creations for the world to see. My ride or die brands have to be PIXI, Laura Mercier and Bobbi Brown and I can't live without my trusty MAC Velvet Teddy!