Whether you received some gorgeous beauty gifts for Christmas, or simply want to have an early spring clean, detoxing your makeup bag is essential in keeping your skin healthy. Products and brushes can build up germs and bacteria over time, which if used on your face, can transfer those same germs and bacteria onto your skin. Therefore keeping on top of your makeup bag will ensure that your products are clean and hygienic, which in turn, will help to keep your skin clear and blemish free.
Clean your make-up brushes weekly to remove product build-up, impurities, oil and dirt. This will not only help to keep your products clean, but ensure that when you use your make-up tools on your skin, they are not spreading bacteria or germs.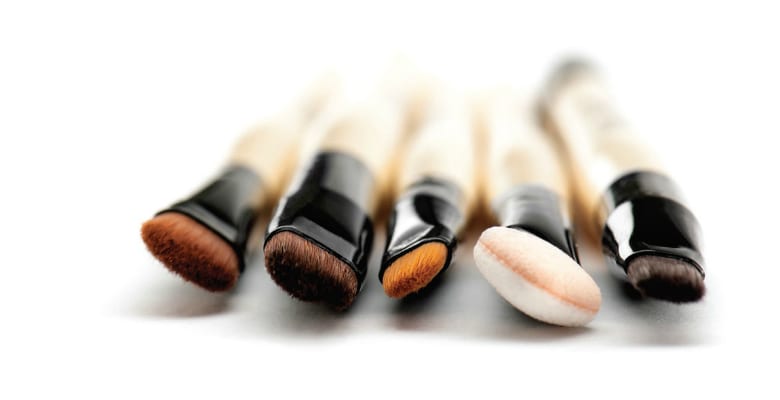 When Should I Clean Out My Makeup Products?
Making sure to know the expiry dates of your makeup products will ensure that they stay clean and you don't transfer any germs onto your skin.
Every 3 Months
Eye products are one of the most germ-ridden makeup products in your bag. Dipping brushes in and our of shadows and pumping the wand in and out of the mascara tube let air and consequently bacteria into your products. Plus, you need to make sure you are keeping your eyes germ-free to avoid an infection.
Mascara
3 months is the recommended time for keeping mascara. The tube of the mascara is an ideal breeding ground for bacteria and germs; as you dip the wand in and out of the tube, dust particles and bacteria from your lashes go into the product and remain there. Mascara can also dry up very quickly, so replacing it within this time frame will ensure that it works to its optimal ability.
Eyeliner and Eye Shadow
Liquid eyeliners can last for 3 months, cream eye shadows for 6 months, and pencil eyeliners/ powder eye shadows for 2 years. Like mascara, liquid eyeliners also pump bacteria into the tube when the wand dips in and out, so replacing it within the recommended time frame will limit the chance of eye infections. Pencil liners can last quite a lot longer; just remember to sharpen them to take off the layer of bacteria that can accumulate.
Every 6 Months
To avoid blemishes and skin rashes, make sure to change all your base products such as foundations, blushers and bronzers every 6 months.
Face Makeup Products
You can keep your liquid foundation and tinted moisturiser for 6 months, and powders for a maximum of 2 years, but it's still recommended you change them with your liquid products. When you repeatedly dip your brushes or fingers into your products, you increase the spread of bacterial growth which can then multiply and cover the product; leading to breakouts and irritation on the skin. Replacing products within this time frame will ensure that your skin remains healthy and clear.
Every 2 Years
The longest lasting makeup product in your bag is actually your lipstick and liner. If you swipe onto clean lips and don't touch the product, you should only need to swap out your products every 2 years.
Lipstick and Lip Liner
Lipstick, lip gloss and liner can last for a maximum of 2 years; making them one of your most important investments in your beauty bag, along with your foundation. Invest in a high-quality, long lasting formula as it can stay in your beauty bag for a long time.

Our team of beauty experts cover everything from makeup to skincare, picking out the most effective products from the best brands and latest trends. Stay up to date on everything beauty with the LOOKFANTASTIC blog, and find all your essentials in one place.