When it comes to looking for the best MAC lipsticks, LOOKFANTASTIC has every finish and shade you will ever need in your makeup collection. We've created a handy guide to the different MAC lipsticks available so you can be sure to find the shade and finish that best suits you.
What Makes A MAC Lipstick so Good?
MAC lipsticks are known all over the world for their high-quality texture and diverse shade selection, which means there is a colour to suit every skin type and desired finish.
Formulated with luxury ingredients, each different MAC lipstick possesses slightly different powers, whether you want a high shine or a matte sheen. The finish however is always the same: long-lasting and with a gorgeous colour payoff.
Which Are The Best MAC Lipsticks?
What Are The Available Finishes In MAC Lipsticks?
1. Amplified (High coverage, creamy finish)
2. Amplified Crème (Creamy, slightly glossy finish)
This gorgeous finish has a delightfully creamy texture that melts onto the lips and leaves them well moisturised and with superb colour payoff and coverage.
Blankety

- This colour looks like cashmere on the skin; perfect for late summer nights and strolls on the beach.

Girl About Town

- This bright pink has a slight blue undertone to add a little vibrancy to your complexion.

Impassioned

- Stay passionate about your lip colour with this gorgeous fuchsia colour, to add a fun and modern flush of pink to your complexion.

Show Orchid

- Like its gorgeous flower namesake, this bright pink is perfect for a girly summer holiday.

Chatterbox

- Be proud to show off your lips with this bright pink shade for a beautiful pop of colour.
3. Cremesheen (Creamy colour, high-shine finish)
This high shine lipstick texture is ideal for those going for a glossy, illuminated and all-round payoff.
Japanese Maple

- This beautifully pearlised shade gives a hint of colour to your lips to make them look like yours, only better.

Peach Blossom

- This frosty pink looks fabulous in the summer months for a daytime chic look.

Coral Bliss

- Say hello to summer with this baby coral to ease you into the warmer months.

Crème Cup

- This very pale pink is ideal for those wanting to add a wash of colour to the lips without it looking too powerful.

Crème In Your Coffee -

Stay energised and vibrant with this warm pinky-nude to add depth to your lips.
4. Frost (Buildable colour, metallic pearl finish)
If you like something with a little shimmer, sheen and shine, go for the Frost Finish. The illuminating Pearl texture will add dimension to your lips.
New York Apple

- Say hello to the big city and bright lights with this plum shade with a hint of pink shimmer.

Odyssey

- If you like something a little more neon than your regular mauve shade, try this frosted deep lilac colour.

Angel

- Like a sweet and angelic cherub, this light pink lipstick is the ideal way to perfect your makeup look without trying too hard.

Bombshell

- Amp up your lipstick collection with this rosy and shimmering pink shade, which takes you from day to night.

Bronze Shimmer

- If you love to go golden to match your tanned contour, add a slick of this bronzed lipstick to your lips.
5. Glaze (Glossy veil finish)
For a glossy and lightweight wash of colour, opt for the Glaze collection. It's perfect for those "no-makeup makeup days."
Hue

- A cashmere-soft pink, this rosy nude is ideal for everyday wear.

Hot Tahiti

- This beautiful pink-red looks like the shade of a summer rose, adding a gorgeous kiss of colour to your lips.

Pervette

- This baby violet shade has a delicate opalescent shimmer in it to add dimension to the lips.
6. Lustre (Sheer colour, glossy finish)
This semi-glossy finish is ideal for those wanting a little shine but long-lasting coverage too. Choose this on days you need your lipstick to stay looking flawless but natural.
Flamingo

- This bright coral looks like the delicate feathers of a flamingo, and will transport you straight to paradise.

Patisserie

- Stay sweet like a cupcake with this creamy pale pink shade to add a wash of light colour to your lips.

Syrup

- The shade that suits everyone; Syrup is a classic nude pink.

Touch

- This gorgeous nutmeg shade has a slight hint of peach-infused into it, for a light wash of nude colour.

Spice It Up!

- Heat up your makeup routine with the mulled wine shade of this glossy lip colour.
7. Matte (Full colour, comfortable wear)
The original formulation and the one people go back to over and over again. This classic matte texture leaves lips gorgeously coloured for a long period of time.
Velvet Teddy

- One of the most cult MAC lipstick shades ever, and the perfect matte nude tone.

Whirl

- This dark rose-tinted nude shade perfects your lips for a sultry and smoking look.

Tropic Tonic

- Say hello to paradise with this powerful coral designed to transform your lips into holiday mode.

Lady Danger

- One of the most cult MAC lipstick shades there are; take a walk on the wild side.

Ruby Woo

- The shade loved by everyone and anyone. It's a classic matte red that needs no introduction.
8. Matte Velvet (Creamy matte finish)
9. Metallic (Metallic finish)
10. Retro Matte (Mattest matte finish)
The mattest of the matte shades for those who like their lipstick to do the talking. Choose this texture when you want your lips to stand out.
All Fired Up

- Keep the party going with this bright popping pink shade.

Dangerous

- As its name suggests, this lipstick is a danger to anyone who dares take a look at its vibrant red shade.

Steady Going

- Ease yourself into a brighter lipstick shade with this pink hue that adds a burst of vibrancy.

Flat Out Fabulous

- Say hello to a brighter you with MAC's popping plum shade; perfect for the warmer weather.
11. Satin (Velvet sheen finish)
This gorgeous and luxurious texture feels like velvet swathing your lips. The gorgeous sheen glides on easily but leaves great colour payoff and a long-lasting finish.
Cherish

- Keep your lips looking natural with this soft peach beige.

A.C Red

- A classic MAC shade, this beautiful red has a slight blue undertone to keep teeth looking white.

Brave

- For when you need lipstick on top form, you can count on this pearlised rosy nude to keep you looking your best.

Captive

- This gorgeous light plum shade adds a wash of colour to your lips to transform your makeup look.

Faux

- This rosy pink shade gives the lips that "mine but better" look.
The Best MAC Lipsticks To Buy
The iconic lipstick collection that catapulted MAC into the beauty limelight. If you're wondering what kind of lipstick finish you might prefer, we've rounded up all of the finishes available within MAC lipsticks including matte, high shine, glossy and creamy to ensure you find the right formula for you.

Your favourite classic MAC lipstick in miniature format. Perfect for putting in your handbag for a night out to keep your pout looking perfect. A staple in any beauty bag, the mini size makes this lipstick the perfect partner in crime, ideal for touch-ups on the go.

3.

MAC Crèmesheen Pearl Lipstick

This super shiny lipstick collection is ideal for those looking for a show-stopping colour without having to go matte. Formulated with moisturising ingredients like Wheat Germ and Olive Extracts, the lipstick helps to condition, soften and nourish your lips, all while giving a medium to full, buildable finish. Its creamy texture is perfect for those who suffer from lip dryness and need a little more hydration without compromising on the colour payoff.

Dozen Carnations - Unlike its name suggests, this is the most intense tomato red you'll see. Perfect for a white outfit.
Koi Coral - A lighter shade of the classic orange tone, for days when you want a "no makeup, makeup look".
Little Buddha - Stay sweet with this peachy pink that leaves your lips glowing.
Nippon - Stay cheeky with this skin nude shade.
Pickled Plum - Classic fuchsia pink with blue undertones, which helps your teeth to appear whiter.
Pretty Boy - For a brighter shade of coral, choose this colour and your lips will shine.
Star Magnolia - If you love a bouquet of pink peonies, you'll love this classic pink shade.
Sweet Sakura - An undertone of gold shimmer helps highlight just how gorgeous this classic red tone is.

4.

MAC Retro Matte Liquid Lipcolour

Like any liquid lip, the MAC Retro Matte Liquid Lip Colours leave lips with a powdery soft and matte finish that has a wear time of 8 hours. Although the finish is matte, the lipstick doesn't feel drying on the skin and instead leaves lips with a flexible texture. Its lightweight formula doesn't bleed, cake, smudge or flake, making it the ultimate lip colour for long-lasting coverage,

Back in Vogue - This beautiful peachy nude shade is perfect for everyday wear.
Dance With Me - For a deeper berry red, choose this tone for long-lasting wear.
DivineDivine - This baby pink is simply divine, and leaves lips looking sweet and angelic.
Fashion Legacy - Stay fashion-forward with a classic red lip that never goes out of style.
Feels So Good - This tomato-red hue is ideal for those looking for something a little brighter than a regular red lip.
High Drama - Add a little drama to your makeup look with this deep plum shade.
LadyBeGood - Stay ladylike with this simple nude tone, which leaves your lips looking like yours but better.
Mademoiselle - This salmon-pink coral glides on super creamy onto the lips to leave them with a baby rose stain.
Oh Lady - Keep things vibrant with this bright deep plum tone.
Personal Statement - Make a literal statement with this bright pink lipstick tone.
Quite the Standout - Stay unique and fun with this tomato-red shade.
Recollection - This super bright magenta tone makes any makeup look fun.
Rich & Restless - Add a little colour to your lips with this soft coral tone.
Tailored To Tease - Stay summery with this bright orchid shade, which will transform your complexion.
To Matte With Love - Eat raspberries without budging this berry-stained shade.
Carnivorous - Think the blackest red you can imagine.
Young Attitude - For a little fun with your makeup, try this super dark teal shade.
Espresso - This iced mocha chocolate shade is the perfect hue to wear for a day out.
Simply Smoked - Think of taupe cashmere for this simple yet gorgeous shade.
Café Au Chic - A hint of café au lait and grey infusion makes this lip shade perfect for cool undertones.
Burnt Spice - This spiced rose shade adds a hint of pink to the lips without steering too far from the classic neutral.
So Me - This neutral plum shade is ideal for those wanting to try out a new colour without it looking too drastic.
Topped With Brandy - This dark nude shade looks especially lovely when wanting something a little more sophisticated than "neutral."
Uniformly Fabulous - Think deep red grapes for this wine-hued shade.

The

MAC Love Me Lipstick

is a creamy and pigmented formula that nourishes your lips with a softening blend of Lychee Fruit extract and Argan Oil. MAC's True-Colour Gelled System contains ultra-refined pigments suspended in a translucent gel matrix, to evenly disperse colour. With 24 shades ranging from confidence-boosting reds to powerful purples, you'll be walking a little taller and feeling a little bolder in just one swipe. Our customers love how truly moisturising this range of MAC lipsticks are.

As if I Care - Rosey pink
Bated Breath - Brown Rose
Coffee & Cigs - Rich nude brown
Daddy's Girl - Baby pink
DGAF - Deep brown red
E For Effortless - Deep poppy red
French Silk - Coral Nude
Give Me Fever - Pinky red
Hey, Frenchie! - Mid-tone mauve
Joie De Vivre - Magenta Purple
Killing Me Softly - Brown Pink
La Femme - Vampy deep red
Laissez Faire - Pale brown pink
Let Them Eat Cake - Lilac tone pink
Maison Rouge - True Red
Mon Coeur - Deep Pink Purple
Nine Lives - Bold pink
Pure Nonchalance - Light pink
Tres Blase - Salmon Pink
Under The Covers - Coral pink
Vanity Pink - Light coral pink
You're so Vain - Deep pink

6.

MAC Lipstick - Satin - VIVA GLAM II

The iconic MAC VIVA Glam II was created in 1994 to raise money and awareness for HIV/AIDS. The beautiful muted, shimmery pink/beige hue offers a semi-matte finish for a comfortable long-wearing application. 100% of the purchase price of any VIVA GLAM product goes toward the M•A•C AIDS Fund.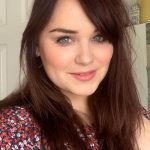 I've been writing about hair and beauty for over 10 years. I am a collector of vintage perfume and my go-to look always includes a bold pink lip! For more, visit https://www.goodgollymisshollie.co.uk