Microcurrent has recently become a top trending skincare procedure that can easily be incorporated into your regime. But at what age should you start using it? We caught up with Emma Nowakowski, Director of Global Education and Training at NuFace who answered the common questions surrounding Microcurrent and how you can achieve a 5 minute facial lift.
What is it Microcurrent?
Microcurrent is a low-level electrical current that's capable of facial stimulation. It sends soft, gentle waves of electrical current through the skin and down to the facial muscles. It mimics and gently exercises our bodies natural ionic flow and resonates with the electrical exchanges that are taking place at a cellular level. This helps to tone, lift and contour.
Why do we use microcurrent?
Young cells produce optimum levels of energy. As we age, the current starts to decline and leads to sagging, muscle laxity, loss of contour and an increase in skin wrinkling. Microcurrent technology provides a non-invasive, virtually sub sensory treatment to help improve the tone of your muscles, micro-circulation to boost skin radiance and increase the synthesis of collagen and elastin that helps to minimise the appearance of fine lines and wrinkles.
The face is also the only area in your body where the skin and the muscles are connected, helping to produce facial expressions. As we age the muscles start to become laxed, leading to loss of tone and wrinkling. Microcurrent helps to regain muscle strength, think of it as a facial workout!
When should you start using Microcurrent?
Microcurrent can be used in your 20's and works as an age deferral and an age corrective tool. It's never too late to start. Think of it as some TLC – to tone, lift and contour! We recommend using Microcurrent for five minutes a day, five times a week for up to the first 60 days and then two to three times a week after that.
How can I achieve a 5 minute facial lift?
Step 1: Cleanse your skin with an oil-free cleanser leaving you with a clean, clear canvas.
Step 2: Choose your activator to help really deliver and transfer current to the skin's surface and muscles. You can select either the NuFace Firming and Brightening Silk Crème which is a serum-cream formulation, infused with beauty activating ingredients to help firm, and brighten or the NuFACE Hydrating Aqua Gel that instantly delivers a burst of thirst-quenching hydration for up to 24 hours.
Step 3: Apply your chosen activator in sections as you treat. Watch how Emma demonstrates this on each area of skin!
Want to discover the benefits of Microcurrent? Shop all NuFace at LOOKFANTASTIC.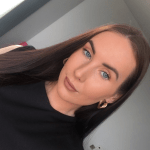 As a beauty fanatic I'm always on the lookout to try and experiment with new products! I've been writing about everything beauty for over 3 years and specialise in skincare so have plenty of tips and tricks to help put blemishes at bay and get your complexion glowing. Whilst being a content writer at LOOKFANTASTIC I've had the opportunity to collaborate with incredible brands including Tom Ford, Dolce & Gabbana and La Mer, taking my understanding of the industry to the next level. In the past I've been a freelance makeup artist and have collaborated with brands including NYX and Revolution Beauty on a personal level, sharing my makeup creations for the world to see. My ride or die brands have to be PIXI, Laura Mercier and Bobbi Brown and I can't live without my trusty MAC Velvet Teddy!