Valentine's Day - the popular calendar event that takes place on 14th February each year, much to the delight of loved-up couples and (more often than not) frowned upon by singletons.
With traditional displays of affection typically appearing in the form of rose-filled bouquets and boxes of chocolate, Valentine's Day gifting has become slightly less conventional in recent years.
Here at LOOKFANTASTIC, we wanted to discover some Valentine's gifting secrets, so we surveyed 1,185 of our customers to get the lowdown: from the type of gifts they love to receive, to the strangest gifts that have come their way on Valentine's Day. Keep reading to discover some truths and rather unexpected confessions.
Perfume and flowers are the most favoured gifts.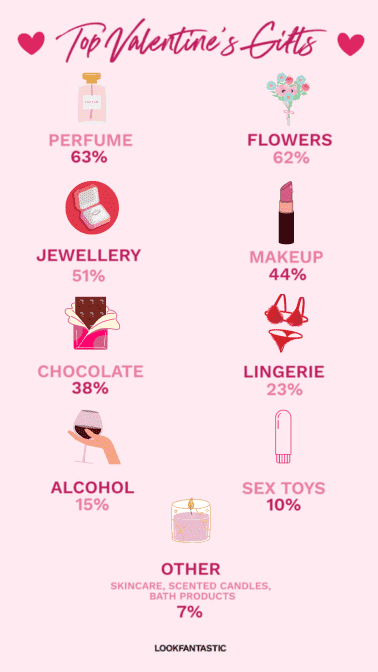 An impressive 63% of respondents claimed that nothing says romance more than a fresh new scent, with perfume being the most preferred gift they'd like to receive on Valentine's. This was closely followed by flowers, with 62% of LOOKFANTASTIC customers going back to basics by showing appreciation for a traditional bouquet.
Jewellery (51%) and makeup (44%) were also high on the list of gifts people like to receive on Valentine's Day, whilst other gifts people said they enjoy receiving included scented candles and bath and body products, such as bath bombs and luxury bubble bath.
Alcohol and sex toys are the least favoured gifts.
Whilst the wine category saw the highest growth in the UK drinks market during Covid in 2020 (see source), with more people staying in and drinking from home during lockdown, our survey revealed that alcohol was the top gift that people would least want to receive on Valentine's (51%). So, if you're considering nipping to your local supermarket to pick up a bottle of prosecco for your loved one, you may just want to think again.
Despite 10% of respondents saying they would like to receive a sex toy on Valentine's Day, a grand total of 44% said they wouldn't be impressed if they unwrapped a sex toy gift from their loved one. So, if you're planning on going down the more 'pleasurable' gifting route, it's worth making sure you and your other half are on the same page to avoid any negative  vibes this Valentine's.
Other gifts our customers said they wouldn't want to receive on Valentine's Day included teddy bears and household items, so it's probably wise to steer to clear of gifting your wife or girlfriend something practical, like an ironing board.
In a nutshell, if you want to play it safe this Valentine's Day then perfume and flowers are your best bets. Or if you're looking to surprise your loved one with something a little less conventional, you can't go too far wrong with a scented candle or piece of jewellery – diamonds are a girl's best friend, after all.
What are the strangest Valentine's gifts people have received?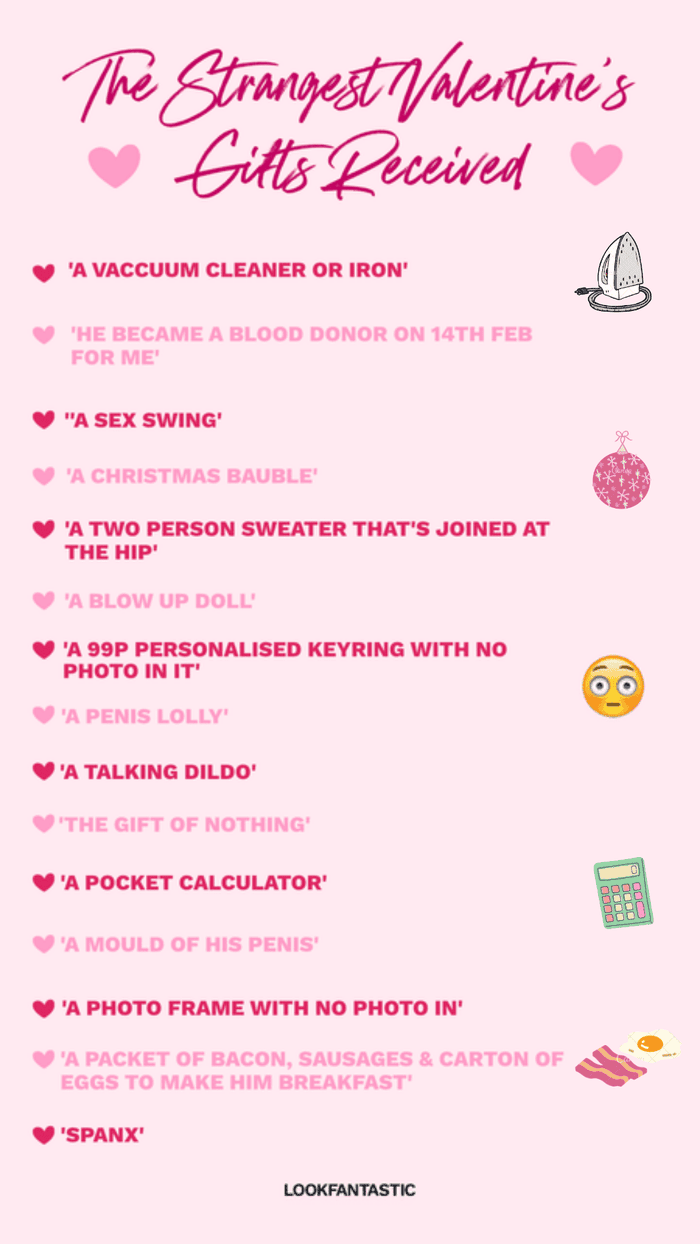 We asked our customers to reveal some of the strangest gifts they've received on Valentine's Day. Whilst some of the responses are NSFW, we did receive some highly amusing answers. Keep reading for the best bits.
A Vacuum cleaner (surprisingly, this was one of the most common responses. We hope there was a joke in this somewhere...)
A Christmas bauble (in February?!)
A photo frame with no photo in
A blow-up doll
A sex swing
'The gift of nothing' (absence makes the heart grow fonder?)
A two-person sweater joined at the hip
'He became a blood donor on 14th Feb for me'
A packet of bacon, sausages and carton of eggs to make him breakfast
A pair of Spanx (charming!)
One in 15 have returned a Valentine's gift back to the store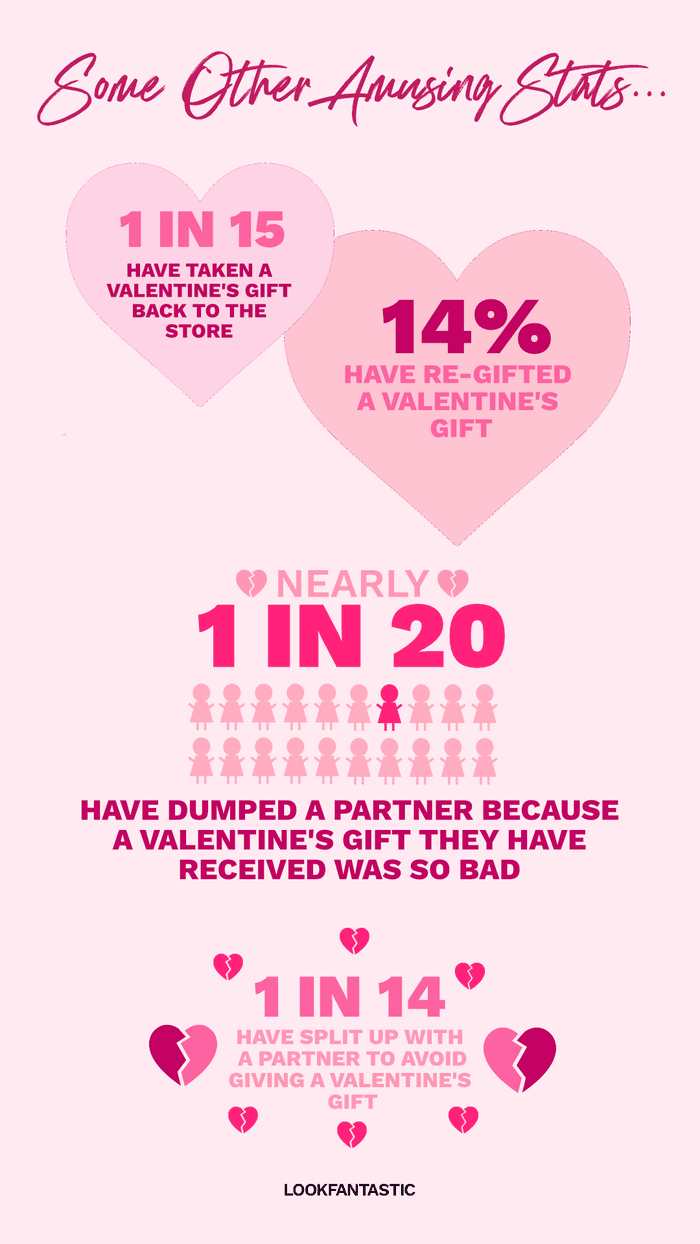 Ever received a gift that you simply cannot bear to keep? You'll be surprised (or not) to learn that one in 15 people we surveyed admitted to sending a Valentine's gift they've received back to the store. We hate to say it, but it seems like romance is well and truly dead in some cases.
14% have re-gifted a Valentine's gift
If it wasn't returned to the store, then it was kept, right? Wrong. A total of 14% of respondents revealed that they'd actually re-gifted their Valentine's gift to someone else. But, recycling an unwanted gift is technically being eco-friendly, so that's one positive way of looking at it.
Relationship Dealbreakers
When asked if they'd ever split up with a partner after receiving a terrible Valentine's Day gift, almost one in 20 customers confessed to calling it quits on their relationship. We can only imagine some of the gifts that were received in these instances *cue face palm emoji*.
One in 14 would rather take the exit than send a gift
But if you think that's surprising, just wait until you hear that nearly one in 14 people ditched their partner to avoid giving them a Valentine's gift altogether. It seems like Cupid lost his arrow somewhere along the way!
What's the strangest gift you've received on Valentine's Day? Head over to Twitter @lookfantastic and let us know your Valentine's gift confessions using #LFValentinesConfessions for the chance to WIN a £150 voucher to spend at LOOKFANTASTIC!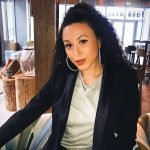 As a beauty obsessive, I'm always trialling and testing new, exciting brands and product discoveries. With over 6 years' experience in beauty writing, including freelancing on the Net-A-Porter beauty desk, I have lots of useful beauty hacks, tips and tricks to share. I'm constantly seeking the latest hair products to make my curls ultra-bouncy and defined. The Cantu Coconut Curling Creme is my Holy Grail! My lipstick collection is always expanding – and my favourite lip product of the moment has to be a nude lipgloss for the ultimate everyday look.