Every bride wants to ensure that they have glowy, photo-ready skin on their wedding day. With so many other things going on in the run up to the big event, the last thing you want is to be worrying about skin concerns, so enhancing your skin routine is essential to get prepped and primed for the occasion. From collagen supplements to deeply hydrating serums, we've put together a list of products that every bride needs as they prepare to walk down the aisle.  
Revive Collagen Premium Liquid Hydrolysed Marine Collagen Drink Sachet Supplements
Keeping your skin healthy and plump in the run up to your big day is essential. Start your wedding prep early and get glowing skin from the inside with the Revive Collagen Premium Liquid Hydrolysed Marine Collagen Drink Sachet Supplements. Comprised of expert blend of 8,500 MG of Hydrolysed Marine Collagen and Hyaluronic acid, each sachet offers a daily dose of anti-ageing, whilst supporting the skin's levels of collagen. With a zingy citrus flavour and anti-inflammatory properties, these multi-purpose sachets will nourish your hair, skin and nails before you take centre stage.  
Vichy Mineral 89 Hyaluronic Acid Hydration Booster 
Add a touch of luxury to your wedding day skincare routine with the Vichy Mineral 89 Hyaluronic Acid Hydration Booster. Formulated to deliver long-lasting hydration that will take you from ceremony to dancefloor, this replenishing gel-like formula absorbs effortlessly into the skin leaving it with a radiant finish. Fortified with Hyaluronic Acid to protect the skin barrier, your complexion is shielded from environmental aggressors and pollution. The hydrating texture also provides the ideal base for your bridal makeup, allowing your skin to shine through and give you that just-got-hitched glow!  
Elemis Pro-Collagen Eye Renewal 15ml 
From laughter to tears, your eyes will experience a lot on your wedding day. Nourish and smooth the delicate area with the Elemis Pro-Collagen Eye Renewal cream. Formulated with a potent anti-ageing formula, this cream is designed to reduce fine lines and wrinkles around the eyes in just 28 days. Prep your eye area before your big day by gently patting in a small amount of the cream under and around your eyes daily to reveal a more youthful look. Pair it with the Elemis Superfood Fruit Vinegar Liquid Glow for the perfect youthful combo.
Clinique Moisture Surge 100 Hour Auto-Replenishing Hydrator
Get your skin moisturised and wedding photo-ready with the Clinique Moisture Surge 100 hour auto-Replenishing Hydrator. This multifunctional formula, enriched with exclusive Aloe Bio-Ferment and Hyaluronic Acid, can be used as a deeply hydrating facial cream, a dewy touch of highlight or even as a quenching boost for thirsty split ends, helping you be a glowing bride from head to toe! 
Rituals Mehr Hair and Body Mist 
For a delicate scent that will give you that feminine bridal allure without irritating sensitive skin, spritz the Rituals Mehr Hair and Body Mist pre-ceremony to complete your beauty regime. Infused with Sweet Orange and Cedar Wood, this fragrance is designed to create a delicate and soft scent that lasts all day, without being overpowering. The water-based blend is ideal for those with a sensitive complexion, providing a beautiful scent without irritating your skin and most importantly, not staining or marking your wedding dress! 
PMD Clean Pro RQ - Blush
Treat your skin to a thorough cleanse in prep for your big day with the PMD Clean Pro RQ. Emitting over 7000 vibrations per minute, the tool works to deeply cleanse and eliminate dirt. It also helps to lift and firm your complexion leaving you with a fresh, useful visage.
Syrene Aqua Hydrating Masque
Create a dewy glow in preparation with the Syrene Aqua Hydrating Masque. Infused with plumping marine collagen and moisturising manuka honey, the rich formula works to quench thirsty skin. Enriched with antioxidant-rich ephemer™, the microalgae helps to promote skin elasticity making it the perfect pre-wedding face mask.
Shop more skincare on LOOKFANTASTIC.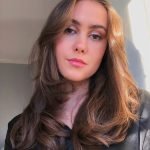 As someone with an affinity for all things beauty, discovering fantastic new products is my not-so-secret obsession. Over the years I've tried and tested a mountains worth of creams, serums and cleansers, finding some of my favourite 'holy-grail' products along the way. However, I'm always on the lookout for more ways to nourish my hair, perfect my dewy base, or enhance my skincare routine. Working as a beauty blogger for over 3 years, I've been lucky enough to collaborate personally with lots of amazing beauty brands including Christian Dior, The Body Shop and Dermalogica. I've used the Dermalogica special cleansing gel religiously since I first got it and their products are some of my ultimate skincare faves. When it comes to cosmetics, NARS Sheer Glow foundation is definitely my go-to - I live for a light, glowy base!