Be kind to your skin and the planet with our Brand OfThe Month, Ren Clean Skincare.Whether you're looking for kinder alternatives to use on your skin or are conscious about packaging, REN provide sustainable solutions to your beauty woes.  
We caught up with David Delport, Global Ambassador, and product expert for REN Clean Skincare as he shows us how to create a sustainable skincare routine along with some experts tips and advice to help you on your journey.  
Your Clean to Planet Glowing Skin Routine with David Delport
Small changes can have large impact when it comes to sustainability! For example, when we removed the pump mechanism in our new Summer Limited Edition Daily AHA Tonic, (replacing it with a recyclable pouring nozzle) it was calculated to have saved 4.2 tonnes of plastic from landfill and incineration in 2021* alone. As a manufacturer of cosmetics, we're conscious that around 70% of cosmetic packaging ends up in landfill which is why REN is the first cosmetic brand to commit to be Zero Waste in packaging by the end of 2021. This means all packaging will either be recyclable, reusable, or made from previously recycled material. We believe in putting planet before profit and the expense of this project is rightly being absorbed by our company – not by our clients. All we do is ask you please recycle!  
Here is my personal waste-free* routine that I rely on to keep my skin healthy and glowing using a few real hero products known for their powerful (yet gentle) results:  
AM Skincare routine
Step 1: Take an almond size amount of the Perfect Canvas Clean Jelly Cleanser and apply to a reusable cotton round. Add some water directly to the product and turn it into a gentle cleansing milk. Sweep it over your face and neck to remove overnight oils and prep skin for moisturiser and SPF.  
Step 2:Apply one pump of the Glow Daily Vitamin C Gel Cream by warming it in your hands and pressing over your face until it's absorbed for antioxidant protection. The Tara Pod Extract is also great for evening out skin tone. I love the light gel-cream texture in the summertime!  
Step 3: Finally, apply Clean Screen Mineral SPF 30 to protect your skin during the day. Apply on well moisturised skin by pressing until set, as it is a pure mineral SPF some whitening might occur if not applied evenly. I find this fades after a few minutes, but for warmer skin clients you might need to tone it up with a little foundation or a bronzer. It's designed to work very well under makeup and personally I use a few bronzing gel drops to finish and it looks amazing and feels super light on my skin! I also love this SPF because it's more on the matte side thanks to rice extract and is designed to be sensitive skin friendly. It's also perfect for combination/oily skin types that find SPF slides into their eyes on hot summer days.  
PM Skincare routine
Step 1:Remove SPF, pollution, and makeup in one step with the Perfect Canvas Clean Jelly Cleanser. For a deeper cleanse apply the balm directly to skin and massage for a minute or two before adding water to rinse clean. The omega oil rich formula leaves skin soft, supple, and glowing.  
Step 2: On a reusable cotton round, apply a few drops of the Summer Limited Edition Ready Steady Glow Tonic and press across your face and neck, avoiding eye and mouth area. This tonic is an exfoliator, brightener, hydrator, and decongesting genius all in one. A cult REN favourite not to be missed!  
Step 3: Tap a small amount of the Brightening Dark Circle Eye Cream around your orbital bone and gently sweep from inner to outer eye area until absorbed. This product has been a game-changer during a super tough year where our eyes have really projected a lot of stress. With clinical results showing an improvement on dark circles in as little as 7 days, this product really shows you can be skin-kind and still powerful!  
Step 4: The final step is to work on evening-out hyperpigmentation and boosting hydration while you sleep. The Dark Spot Overnight Glow Sleeping Cream uses an algae extract that only targets abnormal pigmentation which means it corrects the bad but leaves your natural skin tone alone. The results are incredible, with clinicals also showing improvement in as little as 7 days. The product contains plant glycogen to deeply nourish and hydrate. The goal here is to wake up looking fresh, radiant, and ready to face the day with your best skin ever! 
All product featured are vegan, PETA approved and come in fully recyclable packaging**  
**where facilities exist  
*if you recycle.
Expert tips and advice:
When in doubt as to what to use AM and PM, remember that AM should be about products that offer protection via SPF and antioxidants, and PM should be about renewal and pro-ageing ingredients. Protect in the day, boost at night!
Try using the Perfect Canvas Clean Jelly Cleanser as a massage balm for your facial gua sha before adding water to remove. It can also be left on skin for 10 minutes as a hydrating oil mask.
Sensitive skin or new to AHAs? Dampen your reusable cotton round with water before applying the Glow Tonic to ease your skin into AHA usage.
Targeting dark circles and puffiness is 50% product and 50% application in my opinion!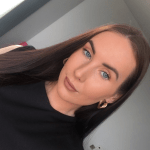 As a beauty fanatic I'm always on the lookout to try and experiment with new products! I've been writing about everything beauty for over 3 years and specialise in skincare so have plenty of tips and tricks to help put blemishes at bay and get your complexion glowing. Whilst being a content writer at LOOKFANTASTIC I've had the opportunity to collaborate with incredible brands including Tom Ford, Dolce & Gabbana and La Mer, taking my understanding of the industry to the next level. In the past I've been a freelance makeup artist and have collaborated with brands including NYX and Revolution Beauty on a personal level, sharing my makeup creations for the world to see. My ride or die brands have to be PIXI, Laura Mercier and Bobbi Brown and I can't live without my trusty MAC Velvet Teddy!