Whilst many of us are excited at the prospect of restrictions being lifted after lockdown, having spent most of the last year cooped up inside with little social activity means that returning to normal life is a pretty big adjustment. Even for those who have never experienced anxiety before, the sudden shift in lifestyle can cause conflicting emotions, and even affect your confidence.  
As social situations start to recommence, it's important to take time for yourself, and to work on boosting your confidence so that you can feel better both inside and out. We caught up with Rose Gallagher, brand ambassador at IT Cosmetics, to get her advice on how to ease anxiety coming out of lockdown, as well as finding out what confidence means to her.  
What advice would you give to people feeling anxious coming out of lockdown?  
"I love taking practical steps to help me feel good about myself. This could be anything from putting on my favourite makeup, to wearing my favourite clothes. I think a great way to feel more confident is to wear things that you really feel good in, because you'll always feel at your best in things that you know suit you. If you're heading out, try sticking to your comfort zone when it comes to these things - go for default things you feel great in because you'll ultimately feel more relaxed.  
IT Cosmetics ran a confidence survey globally which revealed that most people felt at their most confident when they were with their best friends, family and people closest to them. So that should definitely be a priority when coming out of lockdown. Start rebuilding your general confidence with people you know best, and then start saying yes to social events with other circles.  
Another good tip is to stay off your phone. If you compare yourself to others (which many of us do on social media) you'll only focus on what you don't have, or what you wish you had. I follow a girl on Instagram called Lucy Sheridan and she's a comparison coach. She suggests that for every person you admire, scroll back to the beginning of their journey and you'll see that they have evolved – which proves that you can too." 
What do you do to relieve feelings of stress or anxiety?  
"Music really helps me with anxiety. Going for a big walk with the right music is such a great method for stress relief. I love downloading all of my favourite songs – my guilty pleasure has to Little Mix! Otherwise, another way I like to relieve stress is to have some much-needed alone time. Even though people can mean really well and want to help you when you're stressed, I generally prefer being left on my own at these times."  
How would you encourage people to feel confident in their skin?  
"If you're struggling to feel confident and find the good qualities in yourself, try reaching out to someone else who can help you build it up. Ask a friend or a loved one to describe your best qualities and you'll probably be gobsmacked by what they say. I think there's a lot to be said with how other people would describe you – it's powerful to get reassurance from the people who love you and can really help to boost your confidence. Having a support network is so important!" 
What does confidence mean to you?  
"I really think confidence and self-esteem are two different things. If you ask me if I'm confident I'd say yes – I can stand up and speak in front of a room of people. Confidence will get you through the day to day. But the thing you need to grow and nurture is self-esteem. I find it difficult to relate to all the quotes around 'love yourself' because I personally don't believe you should put pressure on yourself to love yourself." 
How has having rosacea helped you to feel confident?  
"There's no cure to rosacea. However, the IT Cosmetics CC cream has changed the way I feel about my skin. I don't need to worry about my rosacea because I know I can cover it up. As an MUA, if I'm getting a bride ready for her wedding, I'd always tell her not to worry, because even if she woke up with measles, we've got a solution to cover it. I find comfort in having a simple solution to problems like my skin, because I feel like when you don't have a solution, it distracts you and makes you feel anxious."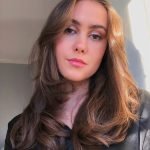 As someone with an affinity for all things beauty, discovering fantastic new products is my not-so-secret obsession. Over the years I've tried and tested a mountains worth of creams, serums and cleansers, finding some of my favourite 'holy-grail' products along the way. However, I'm always on the lookout for more ways to nourish my hair, perfect my dewy base, or enhance my skincare routine. Working as a beauty blogger for over 3 years, I've been lucky enough to collaborate personally with lots of amazing beauty brands including Christian Dior, The Body Shop and Dermalogica. I've used the Dermalogica special cleansing gel religiously since I first got it and their products are some of my ultimate skincare faves. When it comes to cosmetics, NARS Sheer Glow foundation is definitely my go-to - I live for a light, glowy base!