Whilst many of us are counting down the days until restrictions are completely lifted and we can resume some normality, it goes without saying that adjusting back into our pre-covid lifestyle is going to be a big change. Over the last year, remaining indoors and only socialising with your immediate household, or speaking with people online became the norm. We have had more 'me-time' than ever before, and although, for the most part, we are eager to return to social situations, this change can also heighten anxiety for many - something that wellbeing brand NEOM intend to help relieve.
Even if you have never experienced anxiety before, the relaxed pace of our lockdown lifestyles has made many people reluctant to return to our busy schedules with work and social responsibilities. If you are feeling this way, then you are certainly not alone. In fact, up to 32% of us are fearful for the future as a result of the pandemic.*  
As we ease back into a more 'normal' lifestyle, it's important to not be too hard on yourself, and to take the time to do things that can help to relieve your anxiety. Whether it's a warm bubble bath, doing an activity you love, or setting time aside to do your beauty routine, self-care can take many different forms, and is a great way of minimising stress. We spoke to the wellbeing experts at NEOM who introduced us to their new Wellbeing Mini Pod, exclusive to LOOKFANTASTIC, and shared how it can help to relieve anxiety, as well as giving us their top tips to prevent stress in daily life.
NEOM Wellbeing Mini Pod 
Aromatherapy, using plant and flower oil extracts, is a great natural remedy to help combat stress and relieve anxiety. It works by triggering your olfactory senses which in turn are connected to your brain, the pleasant scent then promotes the release of feel-good hormones.** Designed to lift your mood, help you sleep and relieve stress at the touch of a button, NEOM's new Wellbeing Mini Pod is an essential oil diffuser for small spaces. Whether you need relief in your office, the car, your bathroom or small bedroom, this travel sized pod was created specifically for comfort at home or on the go.  
How to use the NEOM Wellbeing Pod Mini 
To release the relaxing vapours, simply attach your favourite NEOM Essential Oil Blend. Using cold fusion technology, essential oil is converted into micro fine vapour without using heat or water and released into the atmosphere to stimulate your senses and boost your wellbeing.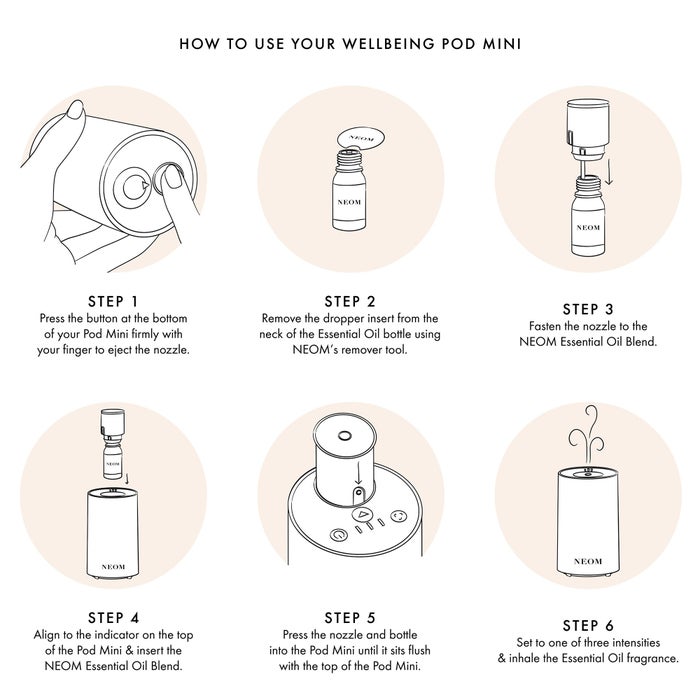 How does it help relieve anxiety? 
The NEOM Wellbeing Pod Mini fills the air with the 100% natural pure essential oils, so you can breathe in the goodness of the precious and potent essential oils. NEOM has 16 essential oil blends in their range, of which seven have been expertly blended to help you stress less and feel calm and relaxed. One of the most popular oils on offer is 'Real Luxury', a complex calming essential oil blend of 24 of the purest essential oils including Lavender, Jasmine and Brazilian Rosewood. One of their newer blends is Ylang Ylang, Vetivert & Tonka Bean, which is a de-stressing essential oil blend from the new Precious Collection, adding a touch of luxury to your space and giving yourself an intensely calming boost. 
5 top tips to help keep calm 
"Switch it all off" 
"There are opinions expectations, alerts, notifications, apps, perspectives and oh-so much more, which flood our senses and our headspace with everything that's outside of us. In order to switch back into who we are, we need to learn to switch off all that external chatter. We can do this by creating moments of quietude throughout the day, by leaning into spells of silence and actively looking for the stillness that existed in a pre-smartphone era." Jayne Hardy, CEO Blurt Foundation 
Write it down 
"One of the most useful things you can do to combat stress and anxiety is to keep a running record of your thoughts on paper. There's simply no better way to learn about your thoughts than to write them down." Barbara Markway, Psychologist 
Take a bath 
"Baths - in 10 mins I can create a calm zone in my bathroom and I honestly emerge feeling like I've done a personal reboot. I use the Real Luxury Candle and Bath Foam as a minimum, the oils get to work fast. Followed by the incredible de-stressing Real Luxury Magnesium Body Butter (magnesium works a treat for stress) and a good book." Nicola Elliott, Founder, NEOM 
Ignore your inner critic 
"Watch out for that inner critic. Notice how you are feeling and what you are telling yourself. Step back from the thought and recognise how it's impacting on you. This could be… I shouldn't be feeling this way, berating or blaming yourself for something that's happened. This may be more likely to happen when under pressure." Dr Emma Hepburn, Clinical Psychologist 
Create a routine 
Get an anchor habit. These habits help by acting as a constant support in times of uncertainty. They can be reliable routines, such as taking daily exercise, a hobby or speaking with a friend." Dr Frances Dodd, Occupational Psychologist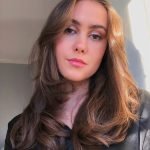 As someone with an affinity for all things beauty, discovering fantastic new products is my not-so-secret obsession. Over the years I've tried and tested a mountains worth of creams, serums and cleansers, finding some of my favourite 'holy-grail' products along the way. However, I'm always on the lookout for more ways to nourish my hair, perfect my dewy base, or enhance my skincare routine. Working as a beauty blogger for over 3 years, I've been lucky enough to collaborate personally with lots of amazing beauty brands including Christian Dior, The Body Shop and Dermalogica. I've used the Dermalogica special cleansing gel religiously since I first got it and their products are some of my ultimate skincare faves. When it comes to cosmetics, NARS Sheer Glow foundation is definitely my go-to - I live for a light, glowy base!