Picture this, your eyes are looking fluttery and fabulous all thanks to a new pair of false lashes you're wearing, but after a couple of hours, they aren't looking quite so fabulous as they start peeling off and looking a little worse for wear. Want to avoid this? Well, it's all in the glue! Here, we'll be sharing the best lash glue to ensure your falsies stay put and last you all day long.
The best false lash glue
Peeling false lashes is up there with lipstick on your teeth, not a good look, but it can be helped! There are various different kinds of lash adhesive that you can choose from, but you need to choose wisely to ensure you're going to achieve the long-wearing results you deserve.
If you have sensitive eyes, ensure you choose an eyelash glue that is specially formulated for sensitive eyes, if you wear contact lenses, choose a latex-free option instead. It is also important to keep on top of the sell-by dates on your lash glue, to ensure you're not using a formula that is out of date which will work far less efficiently.
The best waterproof lash glue
Loved by professional makeup artists alike, the Duo Eyelash Adhesive is the world's bestselling waterproof lash adhesive. This latex adhesive is perfect for false lash application. The clear lash glue can be easily removed with any eye makeup remover without damaging your natural lashes, or your falsies.
The best non-latex lash glue
If you're looking for a non-latex lash glue, the Duo Non-Latex Lash Adhesive in 'White/Clear' from MAC is a latex-free glue that's long-wearing and super comfortable. This adhesive dries clear for a discreet finish so you don't need to worry about any glue showing through and giving away your secrets.
The best long-wearing lash glue
For a super long-wearing lash adhesive, the benefit Real False Lashes Invisible Lash Glue will keep your false lashes on for up to 48 hours!  This waterproof and latex-free formula is super easy to apply and dries clear. You won't struggle to remove your lashes either, so don't worry about extra long-wearing adhesive being difficult to remove.
The best lash glue for strip lashes
The professional false eyelash brand Sweed Lashes will ensure that your strip lashes don't budge when applied. The clear and fast-drying formula grips the lash strip and holds it in place until it's time to remove them. The pointed tip on the applicator makes for a very easy and precise application also.
The Duo Brush-On Striplash Adhesive in 'Black' blends effortlessly with dark lashes to provide a discrete look that is long-wearing as well as being latex-free. The ultra-thin brush for precise application makes it easy and fool-proof to use.
We hope that we've helped you find the best lash glue to use with your favourite falsies. You can say goodbye to lashes that lose their oomph and hello to long-lasting, fluttery false lashes.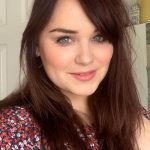 I've been writing about hair and beauty for over 10 years. I am a collector of vintage perfume and my go-to look always includes a bold pink lip! For more, visit https://www.goodgollymisshollie.co.uk