We all love taking the time out to bond with our furry babies and give them a little bit of TLC. For those pets who enjoy bath time, treating them to a pamper session is a great way to keep them relaxed, calm and smelling fresh. If you love sharing self-care evenings with your fluffball, we've got all the products you both need to sit back, relax and get your pamper on!  
Step one: Shampoo 
For you
OUAI Shampoo  
Kick off your pamper sesh with the Ouai Shampoo range. With each formula adapted to either fine, medium or thick hair types, you can find the perfect product to suit your haircare concerns. With a range of benefits from volumising and strengthening to repairing and smoothing, there's something for everyone in this shampoo range. 
For your pet 
OUAI Fur Bébé Pet Shampoo 474ml 
We all like to twin with our furry baby, and now they can smell as good as you do with the OUAI Fur Bébé Pet Shampoo. Scented with the same Mercer Street Fragrance infused in their fine, medium and thick shampoo and conditioner range, this gentle, all-vegan wash cleanses and hydrates the skin, whilst conditioning your pet's coat to leave it super soft and shiny.  
Step two: Condition 
For you 
Olaplex No.5 Bond Maintenance Conditioner 250ml 
Top off your haircare routine and give your locks the ultimate nourishing boost with the Olaplex No.5 Bond Maintenance Conditioner. Formulated with Olaplex's patented bond-repair technology that finds and re-links broken disulphide bonds in the hair, this conditioner works to repair and strengthen your hair. Delivering a burst of weightless hydration, it's the ideal finisher to your haircare pamper routine.  
For your pet  
D.Dog Conditioner - Detangling Conditioner 250ml 
Keep your pet's coat soft and tangle free with the D.Dog Detangling Conditioner. Formulated for all fur types from short or long, to matted or curly, this formula detangles their coat gently and easily whilst enveloping it in a conditioning action and heat protection to ensure it its kept damage free following bath time! 
Step three: Brush and dry  
For you  
Tangle Teezer Easy Dry & Go Vented Hairbrush 
Upgrade your pamper routine and get an effortless blowdry experience with the Tangle Teezer Easy Dry & Go Vented Hairbrush. Designed to help hair dry quickly and easily, whilst providing frizz-free volume and lift, you can get the glam look in half the time, giving you more time to dedicate to your furry baby.  
For your pet 
Tangle Teezer Pet Teezer De-Shedding Dog Grooming Brush 
For another matchy-matchy moment with your pet, the Tangle Teezer Pet Teezer De-Shedding Dog Grooming Brush is crafted with their patented two-tier bristles which make detangling a breeze. Designed to gently target loose hair, your pet can sit back and relax as you get them looking furrrrbulous! 
Step four: Get your glow on  
For you 
Origins Exclusive GinZing Glow Radiance-Boosting Gel Moisturiser 50ml 
Top off your self-care evening with a glowy boost using the Origins Exclusive GinZing Glow Radiance-Boosting Gel Moisturiser. Formulated with coffee to combat irritation and calm skin, as well as Panax Ginseng to reduce the appearance of fine lines, this illuminating formula will leave skin feeling radiant and nourished. It's the ideal refreshing finish to your pamper regime! 
For your pet 
D.Dog Shining Lotion 
Top off your fluffball's look with some added shine using the D.Dog Shining Lotion. This leave-in formula features a blend of dermo-protective oils that help to relieve dry and itchy skin, whilst also moisturising thoroughly. Ideal to revive dull or frizzy hair, this lotion provides a touch of shine and leaves your pet's coat looking smoother than ever.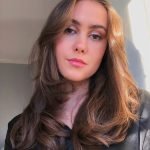 As someone with an affinity for all things beauty, discovering fantastic new products is my not-so-secret obsession. Over the years I've tried and tested a mountains worth of creams, serums and cleansers, finding some of my favourite 'holy-grail' products along the way. However, I'm always on the lookout for more ways to nourish my hair, perfect my dewy base, or enhance my skincare routine. Working as a beauty blogger for over 3 years, I've been lucky enough to collaborate personally with lots of amazing beauty brands including Christian Dior, The Body Shop and Dermalogica. I've used the Dermalogica special cleansing gel religiously since I first got it and their products are some of my ultimate skincare faves. When it comes to cosmetics, NARS Sheer Glow foundation is definitely my go-to - I live for a light, glowy base!