So you've come to the end of a long day (or night) and you need to remove your makeup. More often than not, cleansing away your base makeup is easy, however, stubborn eye makeup such as waterproof mascara and long-wearing eyeliner can really stick around. There is however a way to avoid waking up with panda eyes - remove your eye makeup effectively with an eye makeup remover.
 What Is Eye Makeup Remover?
Eye makeup remover is a cleansing formula designed to remove eye shadow, mascara, eyeliner and false lash glue from your delicate eye area. Eye makeup remover comes in many forms including balms, oils, waters and bi-phase solutions therefore, you'll be sure to find one that works best with your skin type and the eye makeup you're using.
The Best Eye Makeup Removers
Your eyes are an extremely sensitive area and so fragrance-free and hypoallergenic eye makeup removers will be more gentle on your delicate skin whilst getting the job done. Eye makeup remover can be used with a cotton pad to gently wipe away stubborn eye makeup that doesn't seem to budge during your normal face cleansing routine.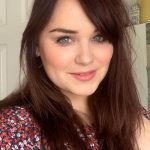 I've been writing about hair and beauty for over 10 years. I am a collector of vintage perfume and my go-to look always includes a bold pink lip! For more, visit https://www.goodgollymisshollie.co.uk