Natural hair products such as sulphate free shampoos and silicone-free conditioners have garnered much popularity over the years thanks to the environmentally conscious and clean beauty movement. With more and more people choosing to go 'naked' when it comes to their hair care, our experts have rounded up the best natural hair products to try.
What Makes Hair Care Natural?
Firstly, it is important to understand the chemicals that are missing from natural hair products and why. The two main ingredients that are absent in natural hair care products are SLS (Sodium Lauryl Sulfate) and SLES (Sodium Laureth Sulfate). Sulphates, also known as surfactants are the 'foaming agents' found in shampoos and they work by attracting the oil and impurities from your scalp to leave your hair clean and dirt-free. Sulphates can sometimes be mildly irritating and so sulphate free shampoos may be best suited to those with sensitive skin and scalps.
10 best sulphate free shampoos
Other chemicals that are missing in natural hair care products include parabens and silicones. Parabens are common preservatives found in hair care products and they work by inhibiting bacterial growth to keep your scalp and hair healthy. Silicones help to keep your hair smooth and shiny, however, a build-up of silicones can coat your hair strands and prevent further products and treatments from penetrating the hair shaft.
In summary, the best natural hair products do not contain chemicals such as sulphates, silicones and parabens to minimise the potential risks of causing redness, itching and aggravation.
The Best Natural Hair Products
The best natural hair care for fine hair
 If you have fine hair, the Grow Gorgeous Intense Thickening Shampoo helps promote full, thicker and more voluminous hair after just one wash. This fully vegan shampoo contains Caffeine and Biotin to boost your roots, whilst Niacinamide reinforces the skin's natural protective barrier. Keratin and added amino acids help strengthen strands while encouraging elasticity for longer, thicker, more luscious locks.
The best natural hair care for coloured hair
The Shea Moisture 100% Virgin Coconut Oil Daily Hydration Shampoo is a sulphate-free shampoo that delicately lifts away dirt and impurities while boosting shine and promoting manageability. Ideal for those with coloured hair, this colour-safe shampoo is formulated with natural, nourishing ingredients, including 100% Virgin Coconut and Shea Oils, plus creamy Coconut Milk and Acacia Senegal.
The best natural hair care for curly hair
For those with curly or textured hair, the Aveda Be Curly Curl Enhancer will define your curls and add a beautifully radiant shine. This curl-enhancing lotion effectively tames frizz and boosts shine while intensifying your precious curls thanks to a wheat protein blend that expands when your hair is wet and retracts when your hair is dry to lock in curls or waves. Organic aloe helps fight unwanted frizz leaving your curly hair beautifully soft and manageable.
Strengthen and replenish your curly hair with the Bouclème Intensive Moisture Treatment. Enriched with Marula Oil for protection, Marufa Butter to prevent breakage, Camellia Oil to reduce tangling, Prickly Pear Seed Oil to provide vitamins, Sea Buckthorn Oil to encourage growth and Wheat Bran to condition, this nourishing hair mask helps to define curls and improve overall hair health.
The best natural hair care for oily scalps
If your scalp is oily and you are prone to greasy hair, the gentle Sukin Oil Balancing Shampoo is fortified with Jojoba Oil, Moringa Extract and Wheat Protein. This weightless conditioner nourishes and refreshes, whilst helping to balance excess sebum, without drying out your scalp.
The best natural solid shampoo bar
Say goodbye to non-recyclable packaging with the weDo/ Professional No Plastic Shampoo Bar . This solid shampoo effortlessly lifts away dirt, impurities and product build-ups. Lasting up to 80 washes, the hero ingredient, Red Clay, helps your hair to appear nourished with a healthier-looking shine and manageability.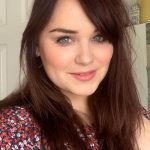 I've been writing about hair and beauty for over 10 years. I am a collector of vintage perfume and my go-to look always includes a bold pink lip! For more, visit https://www.goodgollymisshollie.co.uk