Any child of the 90s will remember how Lancôme Juicy Tubes took over the beauty world during the noughties. If there was one beauty item that everyone wanted to get their hands on, it was these bright tubes of gloss. But what powered their appeal and how have they stood the test of time as an iconic product?
The Start of Juicy Tubes
Lipstick and lip colour has always been big business but as the 90s arrived, the mood was shifting away from the bold bright lipsticks of previous eras to a more natural look.
Nude tones, soft browns and rose pinks took over from bright reds and corals. It makes sense that lip glosses were the next iteration, a break away from old-school opaque colours and formulas.
Traditionally in pots, lip gloss was first invented by Max Factor in the 1930s as a way of adding shine and definition to the lips; perfect for film actresses. It was a great alternative to lipstick but it never really hit the big time until the noughties.
In 2000, Lancôme created the first ever lip gloss in a tube with the Juicy Tubes and the world went crazy for gloss.
What Made Juicy Tubes so Special?
It wasn't like lip gloss had never been around before, so what made the Juicy Tubes into such a cultural phenomenon?
Sometimes things are just about timing. At the launch of Juicy Tubes, there was a generation of young women raised on the 90s craze for collectables; beanie babies, troll dolls, tamagotchis. Social status and cool points were all attached to the collections you managed to have.
For these teens and young women, the Juicy Tubes had instant appeal as a collectible with an irresistible touch of adult glamour.
With their candy colours, sweet tubes and fruity fragrances, it is no surprise that these were the one product every teenager was desperate to get their hands on!
It was a turning point for Lancôme too; it was their move away from their traditional audience and a desire to tap into a younger demographic. Their sophisticated past blended perfectly with the modern desire for all things new, bright and shiny and the plan worked.
Rather than being stuck in the past, Lancôme has become a brand known for their innovation and desirable collections, all without alienating their original customer base.
All together, it meant that almost overnight Juicy Tubes were everywhere; dangling from handbags, in school pencil cases and on the lips of celebrities.
Does the Appeal Still Last?
So even if you didn't manage to get your hands on one at the height of their fame, the legend of Juicy Tubes lives on. Everyone knows them and pretty much everyone wanted one!
Now 16 years later, they are still going strong; limited edition versions fly out of the shops and even now 20 Juicy Tubes are sold every minute!
In her newest book, Sali Hughes describes beauty icons as "the stars of a beauty moment", an idea that so perfectly sums up the Juicy Tubes.
However Lancôme are not ones to rest on their laurels. This year they came up with a breakthrough product that takes all of the appeal of the Juicy Tubes and repackaged it for the modern market: the new Juicy Shakers.
With their bright, playful packaging and beautiful shades, they are every bit as fun and pretty as the originals, but the formula works perfectly for our current tastes. Oils nourish the lips and add a touch of shine whilst the colours leave the prettiest stains, all with the perfect hint of Juicy Tube nostalgia thanks to the sweet scents.
Whether you still love the classic or swipe on the new Juicy Shaker with a knowing smile, there is no doubt that the Juicy Tubes deserve their iconic status.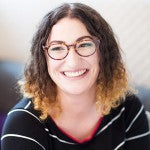 Major fan of scented candles, Make Up brushes and Highlighter. I'm always on the hunt for those Holy Grail products and my dressing table is covered in more beauty products than I like to admit. As an adopted Northerner originally from Brighton, I spend most my days wondering what all this rain is about. My hair isn't grateful for the move. Currently loving:
NIOD Photography Fluid