The importance of water is often underestimated, but to understand just how essential it is, consider the fact that we are primarily made up of water: up to 80% in newborns, 70% in adults, and 50% in elderly people. It plays a vital role in the body by helping to regulate our body temperature and helping to eliminate toxins. Because of this, it's imperative that we use the right products at the right time to help care for and hydrate our skin when it's needed.
In the same way, the skin, like all the other organs, suffers when we don't drink enough water. Adequate hydration is essential to guarantee its plasticity, elasticity, and a glowing, plump and healthy appearance. When the content of water in the outermost layer of the epidermis is low, the skin manifests various problems such as:
appears dull, cracked, and rough to the touch
has a flaky and dry appearance
is pale, opaque, and does not look healthy
shows wrinkles and signs of aging, even at a young age
is more sensitive to external factors
sensation of discomfort, with tightness and irritations
So how can you keep your skin hydrated and ensure you always have that dewy, natural glow?
There are some simple rules you can follow which you can easily integrate into your daily routine to help increase your hydration levels. Here are our top 5 tips.
1. IN THE MORNING
Wake up with an empty stomach and drink a glass of warm water with the juice of 1 lemon or a tablespoon of organic apple cider vinegar. This helps the body to eliminate toxins and to awaken the intestine.
2. DRINK SLOWLY AND REGULARLY
The daily requirement of water differs from person to person, depending on age, diet, exercise habits, and climate. Despite this howe­ver, everyone needs to drink at least 2 litres or 8 glasses of water a day, and better to drink in small do­ses instead of large volumes.
3. LISTEN TO YOUR BODY
It is important to drink before you feel thirsty as usually, this sensation arises when the body is already dehydrated. Also good to know is that as we age, we perceive the sensation of thirst even less.
4. AVOID WATER IN PLASTIC BOTTLES
Some plastics, especially if exposed to the sun and left in the heat, can release substances which are potentially damaging to you. Furthermore, if the plastic bottles are not recycled properly, they can accumulate in landfills and end up in rivers and oceans, damaging the flora and fauna.
 5.
USE HYDRATING SKINCARE
Finally, use hydrating skincare products that contain ingredients such as Hyaluronic acid, a sugar molecule that occurs naturally in the skin which helps to bind water to collagen, trapping it in the skin. This will lead to a more healthy, dewy glow.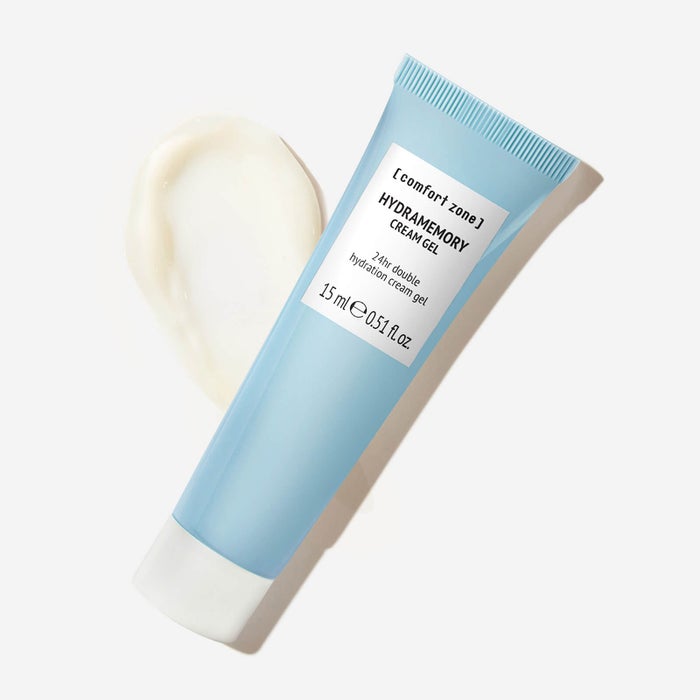 The Comfort Zone Hydramemory range combines natural ingredients and Hyaluronic Acid in various forms to ensure a long-lasting 'water reservoir' in the skin. Hydramemory contains 3 types of Hyaluronic Acid, micro, macro, and biomimetic fragments of Hyaluronic Acid, and fair trade Moringa Oil which restores the water content for round-the-clock hydration. If that wasn't enough, Comfort Zone products are made in Italy with electricity from renewable resources. The packaging is entirely recyclable and has been produced with as minimal impact on the environment as possible, reducing the use of superfluous raw materials and components.
And there you have it. 5 simple ways to introduce water into your routine for a more hydrated, healthier, and glowing complexion. You can find Comfort Zone Hydramemory Cream in this month's Beauty Box as well as a wealth of other hydrating and replenishing formulas for a rejuvenating beauty regime.
As the Beauty Editor for LOOKFANTASTIC Beauty Box I'm always hunting for a good beauty story, I like to remain ahead of the trends. But aside from this, I'm a keen reader and writer in my spare time. You'll find me with my head in a good book most of the time- Beauty & Fashion related or otherwise! You'll often find me obsessing over the latest tropical-scented body oil or lathering on the coconut moisturiser. As you may have already guessed, I have a natural affinity for all things tropical. Beauty and grooming for me is escapism, a little slice of heaven away from the day-to-day.