Looking and feeling our best can have a massive effect on our overall mood and mental attitude, so it's important to keep up your usual routine or furthermore try out some new beauty products whilst you have the time to find your new favourites. We have teamed up with Armani following the launch of their new Luminous Silk Foundation and put together some tips and tricks for a luminous #stayathome look which is perfect for video calls, your weekly outing to the supermarket or just relaxing with your loved ones.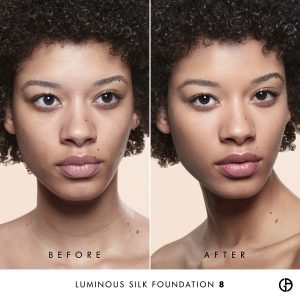 How to get the look in 5 easy steps:
1. Prima Serum + Prima Cream
The key to healthy skin is hydration! Ensure your complexion looks flawless all day by using the Georgio Armani Prima Serum, enriched with Hyaluronic Acid to deeply moisturise and plump the skin. Follow this with the Georgio Armani Prima Cream to awaken the complexion, revive dull skin, reduce fine lines and even out the skin tone before you've even added your Luminous Silk products!