Heading off to Glastonbury this month? We're almost as excited for you as we are jealous. Festival fever is spreading like wildfire this summer as people come together for weekends full of incredible music, questionable dance moves and of course, fabulous glam looks. So, you've packed your wellies, but what festival beauty essentials should you be taking in your rucksack?
We asked a team of beauty experts to give us backstage access to their top tips and tricks for festival season. From cordless hair tools to sweat-proof makeup, here's everything you need to stand out in the crowd.
Tent-friendly skincare
Cleanser
'Ideally you would double cleanse, each day at a minimum' says Dr Fiona Worsnopp, consultant dermatologist at Stratum Clinics. 'If washing facilities are not easily available, reusable cleansing wipes are a go-to. After cleansing, you can remove impurities by also using a chemical exfoliant.'
Moisturiser
'A hydrating moisturiser for sleeping is essential to help the skin barrier, which will likely have been very hard-working from all exposure to the elements that goes hand-in-hand with festival fun.'
SPF
'Sunscreen is absolutely vital when attending a festival. The long hours with typically no cover from the sun is a recipe for disaster for the skin. Try to avoid the sun where possible, especially during the peak UV hours of 11am until 3pm.'
'Apply sunscreen generously and regularly, at least every two hours with a sunscreen which is ideally SPF 50+ and UV 4 or ideally 5 star. If you're not keen on applying a cream regularly, there are also very handy travel sized invisible sunscreen sprays which are great for top ups and sit well over make-up.'
Undereye patches
'Anything cooling for 10 minutes will instantly wake up tired eyes; think cucumber, an ice mask in your drinks cooler or even just some clean ice cubes.'
Crowd-pleasing haircare
Mini hairbrush
'This festival season we are going to see lots of space buns' says Paul Jones, celebrity hair stylist. 'They have been around for a few seasons and are not going anywhere! It's a great way to get your hair out of the way and look cool. If you don't like your hair up then try a half up half down look. Carry a small brush or Tangle Teaser in your bag and give it a good brush at the end of the day'
Dry shampoo
'My number festival essential would be dry shampoo, if this works with your hair type! If your hair is down sleep in loose pigtails and when you wake up in the morning take them out and spray some dry shampoo in and you have cool beachy hair.'
Cordless hair tools
'You can get cordless straighteners and tongs now that give up to 30 mins of power! Babyliss have a great selection of cordless hot brushes, tongs, straighteners - just make sure they are charged before you go!'
Lightweight foundation
'This year, I think we're going to be seeing lots of fresh and dewy skin (with less harsh and heavy foundation) and golden shimmery highlights adding gentle glowy dimension to the face' explains celebrity makeup artist Roseanna Velin.
'Using the right foundation for your skin type is essential. If you have oily skin, go for a more matte finish and set it well with powder. For dryer skin, make sure to moisturise properly and use a dewier foundation'
Multitasking products
'Something like the Benefit - Gogo Lip & Cheek Tint is great because it's a sheer but buildable product which can be used both on lips and cheeks for a subtle pop of colour and glow.'
'I also like the Illamasqua Colouring Eye Pencils which come in a variety of colours. Pencils like this are fun to use and great for adding a pop of colour to the eyes. You can also get creative with them and colour in your brows, lips or extend lines and shapes from your eyeliner outwards.'
Bumbag essentials
'I would always carry a lip balm (tinted to match the shade of lipstick I'm wearing, or clear), a compact powder as I have very oily skin, and a mini facial mist spray for a refresh when partying all night.'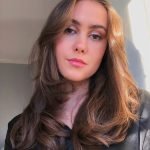 As someone with an affinity for all things beauty, discovering fantastic new products is my not-so-secret obsession. Over the years I've tried and tested a mountains worth of creams, serums and cleansers, finding some of my favourite 'holy-grail' products along the way. However, I'm always on the lookout for more ways to nourish my hair, perfect my dewy base, or enhance my skincare routine. Working as a beauty blogger for over 3 years, I've been lucky enough to collaborate personally with lots of amazing beauty brands including Christian Dior, The Body Shop and Dermalogica. I've used the Dermalogica special cleansing gel religiously since I first got it and their products are some of my ultimate skincare faves. When it comes to cosmetics, NARS Sheer Glow foundation is definitely my go-to - I live for a light, glowy base!