Here at LOOKFANTASTIC, we're proud to support and celebrate strong women on International Women's Day and beyond. From the female CEOs making waves in the industry, to the amazing women who work in our very own team,  it's fair to say that the beauty business wouldn't be the same without womankind. But what does it take to make it big in beauty? We caught up with Penelope Cheshire, Beauty Entrepreneur and Founder of Beauty Works, to get her advice on building a business, as well as her top haircare tips to transform your locks.
Did you always know you wanted to pursue a career in beauty?
​Yes, since the age of 19! I'm fascinated with brands and feel-good products, my idols include Estée Lauder and L'Oréal Heiress Liliane Bettencourt.
What was it like to kickstart your own beauty business?
​It's taken over ten years to get my business where it is today, it doesn't happen overnight. For me, it's all about doing something I love and having my own creative freedom.
​It's taken over ten years to get my business where it is today
​
Did you ever face any setbacks in the early stages of Beauty Works?
Yes, not everything is not smooth sailing. There are always highs and lows in every business and at every stage. My advice is to stay focused on your goals and be willing to make sacrifices to ensure your goals can be met. That might mean zero holidays, fewer nights out and dedicating more time to your business. No one will hand anything to you on a plate.
​What makes you feel empowered?
​Honestly, a good hair style! Hair can really improve your mood. Good hair, good mood, good day.​
What are your top tips for giving lifeless ponytails some extra OOMPH?
​Add in a Clip in Ponytail. My favourite hairstyle is a super sleek, high ponytail. You can easily apply these yourself at home and use styling tools to perfect the sleek, straight style. It really will give your hair some confidence!
​What's the best way to protect your hair from heat and styling damage?​
Use a styler with a temperature control and be mindful of the condition of your hair. If you have gone blonder and your hair is feeling slightly more delicate, turn the temperature down on your tools. Of course, always use a product that protects and coats your hair, I think people often forget this step! Whereas if it was your skin, you would always remember to keep it protected and moisturised - you hair should be the same!
​Do you recommend any hair masks for nourishing and protecting damaged strands?​
Other than the Beauty Works mask for my hair extensions., I personally like the Moroccan Oil Mask. I learnt from a celebrity stylist that you can basically create your own cocktail of masks for your own hair type. I use a Moroccan Oil mask and throw in some of the Kérastase Genesis Serum Anti-Chute Fortifiant on top. ​
What are your best styling tips for curly or coily hair?​
Color Wow do a great product for Dream Coat for curly hair. My friend Dom Seeley is the UK ambassador for the brand and this product works wonders!
What are you best styling tips for straighter hair?
​Introduce a hair mask into your routine and use it weekly. Apply the mask the night before and leave on for the maximum time or even sleep in it, your hair will look softer and healthier. I learnt this tip from Kylie Jenner's hair stylist.
​What's the best way to create volume in fine, limp hair?​
Clip in hair extensions are great for a hair confidence boost. They clip-in and out and can transform your hair within 10 minutes.​
What advice do you have for other women who are looking to start their own beauty business?​
If you keep being told no, you're talking to the wrong person. No one is going to have your best interest at heart, you have to do it yourself if you want to succeed.
If you keep being told no, you're talking to the wrong person
​
Which haircare products always hold a spot in your beauty toolkit?​
A Boar Bristle Brush
Color Wow Dream Coat
Beauty Works Argan Oil Serum
Kérastase dry shampoo​
What are your hopes for the future of beauty?​
I think it's important to learn more about the specific ingredients in beauty products, as well as focusing on creating less plastic waste.
Shop all Beauty Works on LOOKFANTASTIC.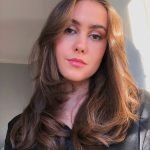 As someone with an affinity for all things beauty, discovering fantastic new products is my not-so-secret obsession. Over the years I've tried and tested a mountains worth of creams, serums and cleansers, finding some of my favourite 'holy-grail' products along the way. However, I'm always on the lookout for more ways to nourish my hair, perfect my dewy base, or enhance my skincare routine. Working as a beauty blogger for over 3 years, I've been lucky enough to collaborate personally with lots of amazing beauty brands including Christian Dior, The Body Shop and Dermalogica. I've used the Dermalogica special cleansing gel religiously since I first got it and their products are some of my ultimate skincare faves. When it comes to cosmetics, NARS Sheer Glow foundation is definitely my go-to - I live for a light, glowy base!