Beautiful skin starts at the base. When it comes to creating an effective skincare routine, the most important step is to firstly determine your personal skin type. With beauty products going viral on Tik Tok left, right and centre, it can be tempting to buy into every brand that promises to help you reach your skincare goals. However, in the quest to perfect your complexion, a one-size-fits-all approach simply won't work. This is where Kiehl's personalised skincare routines and targeted products provide a solution. 
A common misconception surrounding skincare is that your routine should be extremely complicated, and feature as many products as possible in order to be effective. However, whilst you may feel like a qualified dermatologist as you apply your 8th layer of serum to your already saturated skin, the reality is that the basis of a great skincare routine lies in its simplicity.  
At Kiehl's, the key focus is formulating products with the highest quality natural and scientifically advanced ingredients. The brand's apothecary origins mean that they have blended pharmaceutical, herbal and dermatologist expertise spanning almost 170 years to produce quality products that are adapted to your specific skin type. Kiehl's believes in providing simple yet effective solutions to restore and strengthen the skin barrier, whilst treating your unique skincare concerns. Whether you're looking to banish blemishes, combat dryness or fight fine-lines and ageing, Kiehl's have the perfectly personalised skincare routine for you. 
Discover your dream Kiehl's routine based on your skin type below! 
For Normal / Dry Skin  
Step one: Cleanse with the Calendula Deep Cleansing Foaming Face Wash. Enriched with Calendula extract, this foamy formula leaves skin feeling replenished and smooth, gently rinsing away dirt, oil and makeup without stripping the skin. For the best results, apply a small amount to clean fingertips and gently massage into damp facial areas in upward, circular motions.
Step two: Tone with the Daily Refining Milk-Peel Toner. Infused with Lipo Hydroxy Acid, a Salicylic Acid derivative, this exfoliating formula gently buffs away dead skin without withdrawing essential moisture. For optimum results, moisten a cotton pad with the toner and gently wipe over the face, avoiding the eye area. Your skin will be left smooth and refreshed! 
Step three: Moisturise with the Ultra Facial Cream. This lightweight formula contains water-retaining Glacial Glycoprotein to nourish and protect the skin's moisture, even during harsh weather conditions. Designed to promote a soft, smooth and hydrated complexion, apply the cream to cleansed skin day or night, or whenever you need a nourishing boost.  
Step four: Moisturise the eye area with the Creamy Eye Treatment With Avocado. Enriched with Avocado, Beta-Carotene and Shea butter, this formula provides nourishing treatment to your delicate eye-area. Use your fingertip to gently apply the cream along the orbital bone, being careful not to pull the skin. 
Step five: Apply the Midnight Recovery Concentrate. Boasting a 99.8% naturally-derived formula, this soothing blend of Lavender Essential Oil, Primrose Oil and Olive-derived Squalane supports the skin's natural overnight recovery, leaving it replenished. Achieve the best results by applying 2-3 drops to fingertips, warming the oil against your other hand and gently pressing hands onto the cheeks, forehead and chin.  
For oily and blemish prone skin 
Step one: Cleanse with the Cannabis Sativa Seed Oil Herbal Cleanser. Infused with Cannabis Sativa Seed and Green Oregano Oils, this gel formula calms angry skin and purifies the complexion. For refreshing results, work this calming wash into a lather using your hands, then apply to dampened skin in circular motions, before rinsing off with warm water. 
Step two: Double cleanse with the Rare Earth Deep Pore Cleansing Masque. Bursting with essential minerals, Aloe Barbadensis and Amazonian White Clay, this mask absorbs excess oils as well as drawing out impurities. After cleansing, apply a thin layer to damp skin and leave to work for ten minutes. Rinse off with a warm, wet towel to reveal your cleansed, mattified complexion.   
Step three: Tone with the Calendula Herbal Extract Toner. Formulated with natural ingredients such as Calendula Flowers and Great Burdock Root, this gentle toner works to minimise the appearance of pores and absorb excess oils. For soothing results, moisten a clean cotton pad and sweep gently over the skin, avoiding the delicate eye area.  
Step four: Apply the Breakout Control Blemish Treatment Facial Lotion. Fortified with Niacinamide and Salicylic Acid, this formula gently exfoliates skin to banish blemishes, reduce shine and promote a clearer complexion. For best results, apply liberally to clean, dry skin.  
Step five: Alternatively, apply the Ultra Facial Oil-Free Gel Cream. Specially formulated for normal to oily skin types, this gel serves to hydrate and balance skin, and prevent excess oil production. Apply to the skin after cleansing and toning day or night for optimum results.  
For ageing skin 
Step one: Apply the Powerful-Strength Line-Reducing Concentrate. Powered by 12.5% Vitamin C and Hyaluronic Acid, this serum works to hydrate, plump and brighten the skin for an overall more youthful complexion. Cleanse skin thoroughly prior before applying over the entire face twice morning and night (avoiding the eye area) for rejuvenating results.  
Step two: Moisturise with the Super Multi-Corrective Cream. Enriched with PhytoMimetic Vitamin A, ProxylaneGX and Chaga Mushroom, this formula targets 7 key signs of ageing including fine lines and wrinkles, loss of elasticity and uneven tone and texture. Clinically-demonstrated to provide visible anti-ageing results, in a consumer test, 92% of users saw reduced wrinkles, whilst 94% felt firmer skin.* Apply after your serum for a radiant boost.
Step four: Apply the Ultra Light Daily UV Defense SPF 50 PA++++. Offering broad-spectrum defence against damaging UV rays and specially designed to withstand humidity, this weightless formula hydrates and shields the skin. Resist the early signs of ageing and apply in the morning at the end of your skincare routine. 
Discover the full Kiehl's range at LOOKFANTASTIC.
*Based on agreement at 8 weeks in a 12-week consumer use study with a panel of 53 women. Individual results may vary.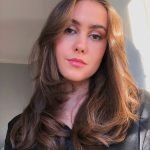 As someone with an affinity for all things beauty, discovering fantastic new products is my not-so-secret obsession. Over the years I've tried and tested a mountains worth of creams, serums and cleansers, finding some of my favourite 'holy-grail' products along the way. However, I'm always on the lookout for more ways to nourish my hair, perfect my dewy base, or enhance my skincare routine. Working as a beauty blogger for over 3 years, I've been lucky enough to collaborate personally with lots of amazing beauty brands including Christian Dior, The Body Shop and Dermalogica. I've used the Dermalogica special cleansing gel religiously since I first got it and their products are some of my ultimate skincare faves. When it comes to cosmetics, NARS Sheer Glow foundation is definitely my go-to - I live for a light, glowy base!