If you've been wondering why is my hair thin? Then you've come to the right place! Thinning hair happens gradually over time and can be caused by a number of factors including lifestyle changes, your health, your genetics and how you treat your hair and scalp.
Thin hair can make particular areas of your head look patchy, however, a thinner patch of hair on your head doesn't always cause baldness and there are ways to minimise the effects of thin hair. Here we'll be examining what causes thinning hair and how you can help prevent thinning hair.
What Are The Main Causes Of Thinning Hair?
Thinning hair can present differently in different people, it may be a patch on the top of your head, around your hairline or in sporadic places around your head. Either way, there are a few reasons for this.
Lifestyle factors can be a significant influence in causing your hair to thin. These include:
Wearing your hair in an updo with it pulled back too tightly can cause the delicate hair follicles to snap and for patches of thin hair to appear most prominently around the hairline.
Over-processing your hair with chemical treatments can cause your hair to become brittle and snap at the root. Always give your hair a break from chemical treatments and avoid using them consecutively. We recommend treating your hair to a

leave-in conditioner

after every chemical treatment.
A poor diet that is short in vitamin-rich fruits and vegetables can cause your hair to thin as your scalp is not receiving the essentials vitamins it needs to replenish healthy hair follicles.
Your general health can also have a determining influence on your hair and scalp.
Not getting enough vitamins and minerals in your diet can cause your hair to thin as folic acid and minerals typically bolster the growth of healthy follicles.
When we are stressed, the stress hormone, cortisol peaks and this can have an impact on how successfully new hairs grow from your hair follicles.
Postpartum hair loss due to a drop in oestrogen levels is extremely common and can typically cause the hair around your hairline to thin out.
Some types of medication can also cause your hair to thin. If you are concerned about thinning hair due to medication, always speak to your doctor or a healthcare professional.
How To Prevent Thinning Hair
There are a few ways you can do yourself to help prevent thinning hair, however, if you are concerned about your hair thinning, always speak to your doctor for medical advice.
Use a thickening shampoo - 

Hair thickening shampoos

work by plumping out each strand of hair to give better volume and nourish the hair follicles to encourage them to grow stronger. Many hair thickening shampoos include ingredients such as Caffeine, Keratin Proteins and Copolymers to help encourage stronger hair growth. Looking for more thickening shampoo recommendations? Discover our guide to

t

he best thickening shampoos for fuller hair

.
LOOKFANTASTIC RECOMMENDS...
The Nanogen Women 7 in 1 Thickening Treatment Shampoo & Conditioner cleanses, thickens and moisturises hair to ensure it is cared for optimally.
The brand's patented Hair Growth Factor complex works to rejuvenate hair follicles to promote healthy growth, thanks to Keratin. Green Tea extract defends against harmful external stressors that cause damage.
The Nanogen Growth Factor Thickening Treatment Serum promotes healthy hair growth and increased thickness and density. Using Niacinamide and antioxidants to strengthen the hair follicle, the brand's Growth Factor complex infuses the scalp and hair with powerful nutrients to aid in healthy growth. With continued use, hair is visibly fuller, thicker and volumised in 2 to 4 months.
Omega 3 and Omega 6 Fatty Acids -

Essential fatty acids such as Omega 3 and Omega 6 can be extremely beneficial in the overall health of your hair and scalp. Omega 3 fatty acid is found in fish and can be taken via a daily supplement.

Folic Acid -

Folic acid is a type of Vitamin B and can help your hair follicles generate new, healthy hair growth in the areas that are thinning.
Thinning hair can be concerning, however, there are preventative measures you can take to help alleviate the signs.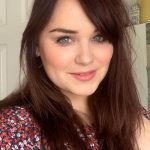 I've been writing about hair and beauty for over 10 years. I am a collector of vintage perfume and my go-to look always includes a bold pink lip! For more, visit https://www.goodgollymisshollie.co.uk