Your skin is extremely sensitive to the powerful UVA/UVB rays emitted by the sun. Whilst many of us love a golden glow, it's extremely important to wear SPF to protect your skin from irreparable damage caused by the sun.
This is especially important when it comes to your face and we recommend wearing SPF on your face every day, even if the weather is overcast to help protect your skin from damage and premature ageing.
What does SPF mean?
SPF (sun protection factor) tells you how much longer you can stay in the sun without getting sunburn vs the amount of time without wearing any sunscreen. For example with SPF 30, when wearing it correctly, it would take 30 times longer for your skin to burn than if you were not wearing anything. Naturally, everyone's skin is different and has a different tolerance to sun exposure however, wearing SPF, whether you're prone to sunburn or not is very important.
What is the difference between SPF and Broad Spectrum Protection?
SPF, or more specifically Sun Protection Factor, measures the protection your skin will receive from UVB rays. Broad Spectrum Protection, on the other hand, means that your sunscreen shields from both UVA and UVB rays, making it the best option when it comes to sun care for your skin.
What are UVB rays?
Responsible for causing sunburn and contributing to skin cancer, UVB is short wavelength radiation, which essentially means that it penetrates the upper and topmost layer of skin cells; causing sunburn, accelerated ageing and potential skin cancer. The intensity of their rays differs throughout different times of the year, but they're most prevalent during the summer months when the sun burns brightest.
The sun protection factor (SPF) of sunscreen is responsible for blocking out these UVB rays and shielding your skin against their damaging effects.
SPF 15 blocks out 93% of UVB rays
SPF 30 blocks out 97% of UVB rays
SPF 50 blocks out 98% of UVB rays
UVA vs UVB
There are 2 different types of UV rays which can penetrate our skin and cause long term damage: UVA and UVB. As discussed above, UVB are the short-wavelength rays which cause sunburn and redness. UVA on the other hand are long-wavelength rays and penetrate much deeper into the skin. They are present all year round, and can even penetrate through the clouds and glass (think about when you're driving and how we don't often protect our skin but are surrounded by windows).
What is broad-spectrum protection?
Sunscreen that protects against both UVA and UVB rays is referred to as broad spectrum protection and helps to keep your skin as protected as possible.
How to stay safe in the sun
Wearing SPF is a brilliant place to start when it comes to staying safe in the sun, however wearing SPF alone will not protect your skin on its own. We recommend, staying in the shade when the sun is at it's hottest and most powerful between 12 pm and 3pm. And whenever you come back from a refreshing swim, be sure to reapply your SPF sunscreen. Finally, always wear sunglasses and cover yourself up or seek shade if you feel like your skin is burning.The Best SPF Sunscreen & Skincare
For daily broad-spectrum sun protection against UVA and UVB rays, choose the Zelens Daily Defence Sunscreen SPF30. This super-smart sunscreen delivers organic UV filters embedded in silica-based capsules that create an invisible layer over skin, shielding from the sun and free radicals that can lead to the formation of fine lines and wrinkles. Innovative Imudilin® reinforces the immune system, whilst a dose of Vitamin C brightens dull skin and lightens pigmentation spots.
The Institut Esthederm Bronz Repair Strong Sun is an-anti wrinkle tanning cream that has been developed for the face and décolleté to help stimulate a natural tan whilst protecting against harmful UVA/UVB rays.
The bestselling Elemis Pro-Collagen Marine Cream has been reformulated with a blend of sunscreen and essentials broad-spectrum protection SPF30. This luxurious, rich cream smooths over the skin and works to reduce the appearance of fine lines and wrinkles. For hydrated skin and protection from UVA and UVB rays, this nourishing and protective cream will become a skincare staple.
For maximum sun protection and specially formulated for sensitive skin types and very fair skin the Avène Very High Protection B-Protect SPF 50+ By filtering UVA and UVB rays, this nourishing cream also is anti-pollution and helps protect the skin from environmental aggressors. This powerful cream is bolstered by Vitamin E. and Avene Thermal Spring Water which is rich in minerals.
For a lightly tinted sunscreen that provides UVA and UVB protection, the Bioderma Photoderm Max Aquafluid Light Tint SPF50+ is a water-resistant sun cream that melts into skin without leaving behind white marks or an oily residue. The weightless formula is ideal for those with sensitive skin.
You can trust the Sarah Chapman Skinesis Eye Insurance SPF30 Serum to help shield your eyes from environmental aggressors as well as UVA and UVB rays. The lightweight serum is enriched with Glycolift™ and Beautifeye™, to give a more lifted effect the serum also helps to maintain normal collagen for a plumper surface that seems firmer.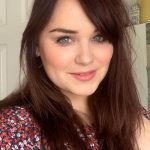 I've been writing about hair and beauty for over 10 years. I am a collector of vintage perfume and my go-to look always includes a bold pink lip! For more, visit https://www.goodgollymisshollie.co.uk