This year is all about stepping out of your comfort zone and experimenting with new looks. It may be hard to stray away from your makeup staples but delving into something new can help increase your confidence and allow you to discover great new styles. To help you get started we've put together the best 5 ways to experiment with makeup. 
Wing it 
Short and simple or big and bold, a winged eyeliner is perfect for any occasion. It may seem like a daunting task but once you perfect your technique, a sharp wing can really change the whole vibe of your look. To start choose your favourite liner,we love the Too Faced Better Than Sex Easy Glide Waterproof Liquid Eyeliner. Begin at the inner corner of your eye and gently create a thin line ¾ of the way along your lid. Next, map out a triangle shape on your outer corner and join together. It really is that simple! 
Reach for a new colour 
We're all guilty of sticking to the same neutral palette when it comes to eyeshadow. Eyeshadow is one of the most versatile beauty products with different formulas, finishes and most importantly shades, making the possibilities endless! 2021 is all about earthy tones with muted greens and bright yellows predicted to become popular. To get ahead of these trends we recommend delving into the Too Faced Pumpkin Spice Eyeshadow Palette and the Natasha Denona Eyeshadow Palette 28 - Green Brown.  
Go graphic  
If a wing isn't your thing, try to go bold with a graphic-style liner instead.This look is particularly great if you want to experiment with colour as well. Start by choosing a single highly pigmented shade from your favourite eyeshadow palette. Take this on the NYX Professional Makeup Pro Angled Brush and sketch out your desired shape and fill in. Finally take a waterproof liner such as the Eyeko Eye Do Eyeliner and create an outline of the shape you just created. There you have it! The perfect graphic liner look. 
Pucker up 
Big lips are back and they're here to stay. If you're not a big fan of eye makeup, experimenting with a bright lip colour is a great way to create a powerful look with minimal effort. This season it's all about the fuchsia pinks and the deep bold reds. We recommend the NARS Lipstick - Banned Red and the Mavala Sensation Lipstick - 625 Flirting Pink - guaranteed to make heads turn! 
Make it pop
If you're not a fan of full colour, try adding just a pop into your inner corner. Not only will this help to subtly brighten up your look but it will also give you the illusion of bigger eyes.Have fun and incorporate shimmers and glitters to make it extra eye-catching! 
Top tip: When using this technique try matching the colour to your outfit or accessories for the ultimate chic look. 
Shop all makeup at LOOKFANTASTIC.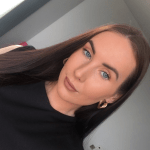 As a beauty fanatic I'm always on the lookout to try and experiment with new products! I've been writing about everything beauty for over 3 years and specialise in skincare so have plenty of tips and tricks to help put blemishes at bay and get your complexion glowing. Whilst being a content writer at LOOKFANTASTIC I've had the opportunity to collaborate with incredible brands including Tom Ford, Dolce & Gabbana and La Mer, taking my understanding of the industry to the next level. In the past I've been a freelance makeup artist and have collaborated with brands including NYX and Revolution Beauty on a personal level, sharing my makeup creations for the world to see. My ride or die brands have to be PIXI, Laura Mercier and Bobbi Brown and I can't live without my trusty MAC Velvet Teddy!