Want to treat your curls with care? Maybe you're on the lookout for some expert techniques and tips on how to style your naturally curly hair? If the above sounds like you, then you've come to the right place! We've asked the fellow curly girl and YouTube influencer, Vanessa Daniels, to show you her personal method of washing and styling curly hair with finesse.
Meet The Expert, Vanessa Daniels
Vanessa Daniels is a fashion and beauty influencer who started her Youtube Channel back in 2014. Since then, Vanessa has amassed nearly 4 million views on her channel. Famous for her stand-out curls, Vanessa has shared with us her expert guide to styling naturally curly hair for glossy, defined locks.
How to style naturally curly hair
Step 1 - Begin by washing your hair
Vanessa recommends starting by shampooing your hair with the KeraCare Curlessence Moisturising Shampoo. Start by rubbing the shampoo between your fingers and massage the product in for a few minutes.
Don't be tempted to comb the product through your hair at this point, as it is much easier to comb your hair and detangle once you have used conditioner. Vanessa's top tip is to avoid applying shampoo to the ends of your hair, as these areas will be washed when you rinse the shampoo out. Once you've given your scalp a good massage, it's time to rinse!
Discover: 10 of the best sulphate free shampoos for curly hair
Step 2- Apply a deep conditioning treatment
Now, it's time to apply a deep conditioning treatment. Vanessa recommends really focusing on the ends of your hair and the crown of your head, if you find that those areas get dry easily. Once you've applied the product, it's time to take the Denman D3 Medium Classic Styling Brush and work through any tangles.
Vanessa recommends separating your hair into smaller sections and starting at the ends, working your way up to help the detangling process. Once you've detangled your hair, twist in the treatment and leave it to sit for 15-20 minutes before rinsing out.
Step 3 - Apply conditioner
The final part of Vanessa's wash routine is to apply conditioner. Vanessa's top pick is the KeraCare Curlesence Moisturising Conditioner and she recommends applying it everywhere to really lock the moisture in. Once the conditioner is applied, go back over your hair with the Denman brush, then plait it to make sure every strand is covered. Leave the conditioner to sit for 2-3 minutes before rinsing clear.
Step 4 - Apply serum
Vanessa recommends sectioning your hair into two and then into four. Starting with the bottom two sections of hair, apply a generous amount of the Curlsmith intense Treatment Serum and rub it through your hair, paying particular attention to the ends. Follow up with the Denman brush to comb the serum through.
Step 5 - Apply oil
Hair oil is a great way to lock in moisture, Vanessa recommends using the Moroccanoil Treatment. Take a small, pea-size amount and rub it through the ends of your hair on top of the serum.
Step 6 - Apply a curl enhancer
The final product to use in this easy expert routine is a curl enhancer. Vanessa recommends the Aveda Be Curly Curl Enhancer. Apply a small amount and brush it through to ensure the product is evenly distributed.
Step 7 - Dry your hair with a diffuser
Now that your hair is prepped, it's time to dry your beautiful curly hair. Vanessa uses a diffuser to gain more control over how the curls dry. Start by using the cold heat and medium power, moving through your hair a section at a time.
You can mix up techniques, either bouncing the hair up and down in the diffuser or pulling the hair downwards and angling the diffuser towards the root, so that your curls don't shrink as much. This is especially useful at the back of your hair if you want it to look a little longer.
Once you've followed the above steps, you'll be left with defined, bouncy curls that are hydrated, conditioned and glossy. It really is that easy!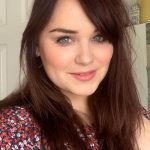 I've been writing about hair and beauty for over 10 years. I am a collector of vintage perfume and my go-to look always includes a bold pink lip! For more, visit https://www.goodgollymisshollie.co.uk