When it comes to skincare, people often sit on opposite sides of the spectrum. One side being the 10-step skincare lovers who meticulously layer products with an artistic flair, and the other being the slap-dash skincare junkies who want all the benefits, without the fuss. No matter where you sit on the scale, we're all after one thing: effective products. Whilst long pamper sessions can be fun, a few extra minutes in bed never hurt anyone. For those days that even the complexion perfectionist doesn't have the energy, but doesn't want to compromise on efficacy, fan-favourite skincare brand Drunk Elephant has a solution: skincare smoothies!
Similar to their tasty counterparts, the concept behind a skincare smoothie is simply that of mixing well-matched ingredients together to create the perfect blend to suit your needs. What's more? By blending your products together in the palm of your hand, you can reap all the benefits of the ingredients, without the lengthy process of applying it all. A quick-fix skincare shot if you will.
But what is the science behind these concoctions? Are they really just as beneficial as your usual routine? We spoke to Kamil Nowak, Field Trainer for Drunk Elephant, who gave us all the juicy details.
What are 'skincare smoothies' and why should we include them in our routines?
Here, at Drunk Elephant, we think of our skin care routines as smoothies. They're easy to mix, and you can change up the recipe whenever you want. The most beneficial thing about smoothies is simply – time-saving. By making your favourite skincare smoothie in the morning you can still benefit from all your favourite products and ingredients, but instead of 20 minutes, it will simply take you 20 seconds for the entire routine.
What's the science behind 'skincare mixing'?
We pride ourselves on not using anything we like to call 'suspicious' in our products, namely, The Suspicious 6™. We also only use biocompatible ingredients, which means all the ingredients found in Drunk Elephant products either directly benefit the health of the skin or the integrity of our formulations. Since all Drunk Elephant products are silicone-free and biocompatible with skin, so they mix together easily and are highly absorbable except for our Umbra™ sunscreens, whose protective zinc sits on the skin's surface.
Mix any of our serums, creams, or oils together in the palm of your hand and apply them all at the same time.
What's the difference between skincare mixing and skincare layering?
The main reason we needed to layer in the past and wait some time before proceeding to the next step is that a lot of products on the market contain different types of silicones. Silicones need time to dissolve on the skin and they can also block the absorption of active ingredients, such as vitamins. Also, they do not have any direct benefit for your skin. We encourage everyone to try mixing your Drunk Elephant products, but that doesn't mean you cannot layer our products too, it's great to have options for both.
Why is it important to switch up our products based on our skin's needs? How frequently should we be switching up our products?
Our skin needs are changing constantly depending on the products we are using, the weather, environment, climate, our diet and overall lifestyle. Pay attention to what is happening to your skin on a particular day. Much like you choose ingredients for your daily smoothie based on your body's cravings, pick products for a.m. and p.m. smoothies based on how your skin feels. You can switch up products pretty much daily if your skin needs it.
Our skin needs are changing constantly
Can switching up your products too frequently confuse your skin and do more harm than good?
No. Your body needs a variety of ingredients. I always use a salad reference. It's healthy and good for you, right? But what if you will have the same salad, every day, twice a day, for three months? I mean you would get bored of course. But besides that, it is not that healthy anymore. Your body needs different things based on your daily activities. Your skin is no different.
Are there any skincare ingredients that should NOT be mixed together?
Making your own skincare smoothies and trying out different combinations can be really fun. There are no strict "rules" when it comes to smoothing Drunk Elephant Products. However, we always advise being cautious when mixing active ingredients together, such as AHAs, BHAs and Retinols.
The only two products we do not advise to mix together are C – Firma™ Fresh Day Serum and T.L.C Framboos™ Glycolic Night Serum. As the names suggest, one is for the daytime, and one for the night time. You can absolutely use them the same day, just not at the same time. Think of your C-Firma™ Fresh Serum as your morning sunrise and your T.L.C Framboos™ Serum, like your evening sunset.
Which are the best Drunk Elephant products for dry skin?
We think of skin concerns, not really skin types, but for dry concerns, I'd recommend three products that are a dream for tired, dry skin.
Lala Retro™ :

infused with six African oils and a plant ceramide complex, this multifaceted cream replenishing barrier support by reinforcing skin's acid mantle.

B-Hydra™ Intensive Hydrating Serum

: formulated with pro-vitamin B5 and pineapple ceramide, this serum delivers steady hydration throughout the day.

Virgin Marula Oil:

rich in critical antioxidants and omegas 6 and 9, Marula nourishes and balances while restoring a youthful glow.
What are the best Drunk Elephant products for oily skin?
For Oily concerns, using lighter, gel-like textures packed with active ingredients that gently exfoliate the skin and reduce sebum production is the key.
Protini™ Polypeptide Cream:

this protein moisturizer combines signal peptides, growth factors and supportive amino acids for improvement in the appearance of skin's tone, texture, and firmness.

T.L.C. Framboos™ Glycolic Night Serum

: formulated with our dream team of glycolic, tartaric, lactic, citric, and salicylic acids, this serum curbs excess oiliness.

T.L.C. Sukari Babyfacial™:

a pro-quality AHA/BHA "facial" that resurfaces to reveal greater clarity, improved skin texture and tone, and a more youthful-looking radiance.
What are the best Drunk Elephant products for combination skin?
For combination concern, I think it is best to use a variety of ingredients and textures, as we do not want to swing our skin to either side of the dry to oily spectrum.
Lala™

is an all-purpose, loving rescue cream that keeps moisture on lock and environmental stressors in check.

Protini™

is a shot of firming protein and peptides that restores collagen while adding strength and moisture to skin.
Mix them together and Protini™ will dive deep into skin to offer internal support, while Lala™ pampers and protects, allowing skin to recover from the harsh elements.
What are the best Drunk Elephant products for sensitive skin?
Similar to skin types, we do not really believe in sensitive skin. What we do believe, is when you are using products that contain one or more of the Suspicious 6™ ingredients, and your skin's pH level is thrown out of wack, you end up with over sensitised skin. That can easily be solved. Just simply let go of the Suspicious 6™ out of your routine, take a Drunk Break™ and allow your skin to return to its clear, balanced, healthy state.
Beste™ No. 9 Jelly Cleanser

: with a unique blend of mild surfactants and makeup-dissolving emollients.

Sweet Biome™ Fermented Sake Spray:

a boozy biome builder is packed with amino and fatty acids, electrolytes, and ceramides that help to support a healthy microbiome.

F-Balm™ Electrolyte Waterfacial:

this cooling, quenching overnight mask plumps and restores with an electrolyte mix.
What's the Drunk Elephant fan-favourite product everyone should own in their collection?
It is so hard for me to choose just one! First, it would definitely be Protini™ Polypeptide Cream. Protini™'s proprietary formula restores younger, revived-looking skin, almost from the first application. It is gel-like but packed with proteins, antioxidants and marula oil, can be enjoyed by all skin.
Our second fan favourite is T.L.C. Sukari Babyfacial™. With Babyfacial™ you see and feel the difference right after the first use. Babyfacial™ delivers incredible brightening and enzymatic action, improves skin's elastic feel, and reveals the look of a more even, radiant, baby-soft complexion.
Which smoothie is right for me?
Liquid Gold smoothie
For brighter, smoother, firmer-looking skin.
Forever Young smoothie
For stronger, firmer, younger-looking skin.
Move Your Acid smoothie
For smoother, balanced, more hydrated skin.
Beach Your Heart Out smoothie
For radiant, bronzy, naturally flushed skin.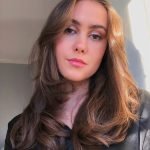 As someone with an affinity for all things beauty, discovering fantastic new products is my not-so-secret obsession. Over the years I've tried and tested a mountains worth of creams, serums and cleansers, finding some of my favourite 'holy-grail' products along the way. However, I'm always on the lookout for more ways to nourish my hair, perfect my dewy base, or enhance my skincare routine. Working as a beauty blogger for over 3 years, I've been lucky enough to collaborate personally with lots of amazing beauty brands including Christian Dior, The Body Shop and Dermalogica. I've used the Dermalogica special cleansing gel religiously since I first got it and their products are some of my ultimate skincare faves. When it comes to cosmetics, NARS Sheer Glow foundation is definitely my go-to - I live for a light, glowy base!