OILY SKIN OR AGEING SKIN? 
We have the box just for you…
Introducing the LOOKFANTASTIC x The INKEY List Limited Edition Beauty Boxes – 2 boxes, each filled with 6 results-driven, effective skincare products, curated for your specific skin type.
Each box has a worth of over £58, and with 1 box for just £35 we're expecting a fast sell-out! Don't miss out!
What's inside – OILY SKIN BOX?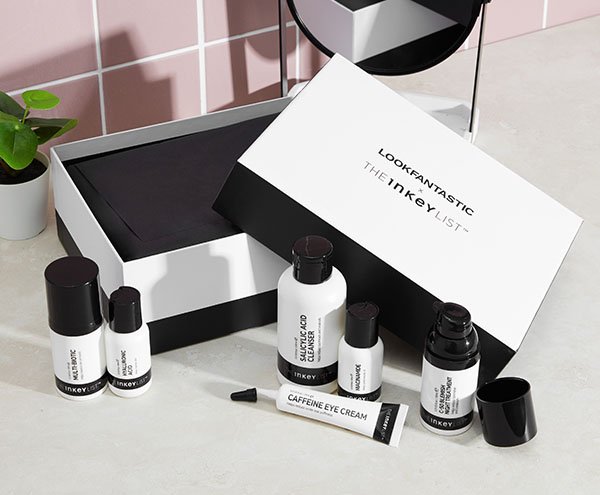 Salicylic Acid Cleanser (150ml) - a non-drying, lightly foaming cleanser removes makeup and dirt, whilst helping to reduce blackheads and breakouts
Hyaluronic Acid Serum (30ml) - a powerful moisture-binding super ingredient that works beneath the skin surface to hold 1000x its weight in water, leaving you with skin that feels and appears hydrated, plump and healthy
Niacinimide (30ml) - a lightweight, power-packed serum containing 10% Niacinamide. This naturally occurring B3 vitamin helps to effectively reduce excess oil, blemishes and redness
Caffeine Eye Cream (15ml) - a wake-up call for your eyes! This hydrating and lightweight under-eye cream helps to reduce the appearance of puffiness, dark circles and fine lines. As caffeine is a diuretic it can help to relieve water retention, a major cause of puffiness under the eyes
Multi-Biotic Moisturiser (30ml) - a lightweight moisturizer that helps to maintain your skin's pH balance and help protect against pollution. Multi-Biotic combines pro-biotic, along with its nutrients (pre) and by-products (post), to help balance and promote healthy skin
C-50 Blemish Night Treatment (30ml) - an overnight treatment that targets breakouts. A powerful combination of Vitamin C and Vitamin E helps reduce the bacteria count on your skin, helping prevent and reduce blemishes. Salicylic Acid also helps to exfoliate and unclog pores whilst lotus extract helps to balance oil
What's inside – ANTI-AGEING BOX?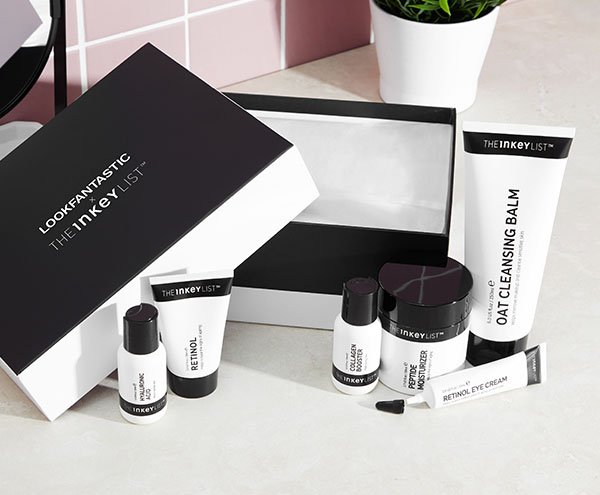 Oat Cleansing Balm (150ml) - a luxurious cleansing balm that gently dissolves makeup, hydrates and nourishes the skin, making it ideal for sensitive skin types
Hyaluronic Acid Serum (30ml) - a powerful moisture-binding super ingredient that works beneath the skin surface to hold 1000x its weight in water, leaving you with skin that feels and appears hydrated, plump and healthy
Retinol Serum (30ml) - your go-to ingredient for skin renewal. Derived from Vitamin A, Retinol is the gold standard for skin renewal helping to target the signs of aging. Released slowly, this serum helps target the appearance of fine lines and wrinkles with less risk of irritation
Retinol Eye Cream (15ml) - a night-time eye cream formulated to reduce the appearance of fine lines and wrinkles while giving extra support to your most fragile skin
Collagen Booster (30ml) - a face serum that works to tighten and plump the skin whilst targets fine lines and wrinkles. Using the power of Matrixyl™ 3000 peptide, this smoothing and hydrating serum mimics the effect of what natural collagen would do to your skin, helping it appear plumper, firmer and more supple
Peptide Moisturiser (15ml) - a rich, fast-absorbing daily moisturiser containing a peptide duo that helps support proteins naturally found in the skin
Subscribed to the Beauty Box? Click through your early access email and use your  to get the box for 
Want £5 off? Subscribe to the Beauty Box and  at checkout to get the box for