From CBD oils that banish redness and irritation to pigmented palettes that will help you nail your night-out glam, meet the new season beauty products that Team Fantastic are currently obsessed with.  
This quick-fix mask has become our favourite skin pick-me-up over the last month. The Caudalie Detox Mask is ideal for oily and combination skin types, working to extract impurities from your pores and leave skin feeling revitalised in just ten minutes. Enriched with Grapefruit extract and Coffee seed extract, the formula is our 'glow-to' for a radiant, poreless complexion. 
'This mask perks up my complexion quicker than I can make an iced coffee! I love how my pores feel soothed and minimised afterwards' Alice Macfarlane, Beauty Writer 
Murad has become a staple brand in our skincare routines at LOOKFANTASTIC, and their new Rapid Dark Spot Correcting Serum is the protective formula we have been craving. Enriched with Glycolic Acid and antioxidants, the lightweight serum shields skin from environmental aggressors, preventing dryness or damage and maintaining a youthful glow. 
Team LF love to add a touch of luxury to our skincare routines, and these 111SKIN masks are ideal if you want to indulge in some self-care. Featuring six individual formulations to suit a variety of skin concerns including dryness, blemishes, and anti-ageing, there's something to suit everyone in the collection. 
'The microbiome blemish mask has done wonders for my skin! I love applying it in the evening so it can work its soothing magic overnight!' Ellie Taylor, Beauty Writer 
Now that nights out are back on our social radar, the Yves Saint Laurent Exclusive Eye Collection is our makeup of choice to take us through the party season. From the cool blue tones in the #4 Tuxedo palette, to the rich warm hues in the #3 Saharienne, these luxurious pigments are ideal to take you from date night to girls' night! 
The final step of our beauty routine always ends with a spritz of scent on our locks, and the YSL Libre Hair mist is the ideal scent to give your hair a refreshing burst. A blend of Orange Blossom, Pomegranate and French Lavendar, this playful scent helps to replenish hair and keep you smelling sweet all day. 
CBD is the new hero ingredient that Team LF are loving. Ideal to calm and hydrate the complexion, the CBII Nourishing CBD Face Oil features a soothing blend of Macadamia and Hemp seed Oils to reduce inflammation and redness, promoting a more even, nourished skin tone. 
'I never used CBD products until now, and I can't get enough! I love using this oil to calm my complexion when it's feeling dry and irritated' Alice Macfarlane, Beauty Writer 
Shop more new in products on LOOKFANTASTIC.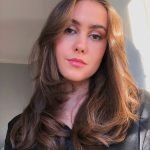 As someone with an affinity for all things beauty, discovering fantastic new products is my not-so-secret obsession. Over the years I've tried and tested a mountains worth of creams, serums and cleansers, finding some of my favourite 'holy-grail' products along the way. However, I'm always on the lookout for more ways to nourish my hair, perfect my dewy base, or enhance my skincare routine. Working as a beauty blogger for over 3 years, I've been lucky enough to collaborate personally with lots of amazing beauty brands including Christian Dior, The Body Shop and Dermalogica. I've used the Dermalogica special cleansing gel religiously since I first got it and their products are some of my ultimate skincare faves. When it comes to cosmetics, NARS Sheer Glow foundation is definitely my go-to - I live for a light, glowy base!