On April 7th, we celebrate World Health Day. A day dedicated each year to a specific area of the health industry, from disease prevention to healthcare worker recognition.
Though we celebrate areas of the health industry and highlight healthcare topics on this day specifically, it's important to remember that your general wellness and health is a year-round subject.  In honour of the day, we've compiled a list of top tips to keep you looking and feeling your best from top-to-toe, inside-out.
INFORMATION IS KEY
Being an informed consumer is one of our top priorities for this year. Whether this is simple steps, like reading up on how to use the latest skin cream or SPF product, or speaking to a health professional about some of your more pressing concerns, it's important to always stay in the know when it comes to your mind and body.
TIP: A word that is often thrown around the beauty industry in particular is 'natural'. Whilst many of us suffer from dry or sensitive skin, and seek out the products that specify 'natural ingredients', it's important to remember that this term does not have a specific definition when it comes to cosmetics. You should always read the label and beware of other additives or irritants that may be included in your products.
This doesn't always mean you have to disregard these products, but it does mean that you can tailor your skincare regime to counter-balance some for the harsher chemicals, making for a more harmonious routine.
HEALTH IS WEALTH
Beauty isn't just skin deep, beauty can be a mentality- something that originates from within your mind and soul. More recently, mental health has been in the spotlight, and we're now becoming more accustom to the fact that our mental health can often affect our physical health. That's why its important to feel good from within. By focussing on the positives, and embracing your true self, this can manifest into good physical health.
TIP: Try reading up on beauty issues and discussions on body image that resonate with your own personal circumstances. Reading through other people's experiences with certain types of issues or problems can often help you work out the best way in which to deal (or celebrate) your own.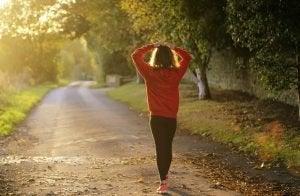 AVOID THE BURN-OUT
If 2020 has shown us anything, it's that balance is the most important element when it comes to our work and home lives. Balance is key to ensure that we're not 'burning out'. As ideas and workloads can gather momentum, especially whilst working from home, it's important to realise that taking a break from all the stress can have many benefits and these can have a ripple effect into the other aspects of our lives, relieving stress and anxiety.
TIP: Time out doesn't always have to be a holiday or a day off. Why not try setting aside an hour or two in the evening, maybe mid-week, for some all important R&R. Our Beauty Box is the perfect edition to this 'me-time' ritual and can help alleviate the stresses and thoughts of the day. And whilst relaxing, you're also doing your skin a favour and boosting your natural radiance… it's a win-win. Shop our April Blossom box here.
"YOU ARE WHAT YOU EAT"
Just like our mental health, we are now more increasingly focussed on gut health as a way to protect our skin, hair, and nails from the inside out. Our 'Gut Feelings' can have a massive impact on our day-to-day routine. Often coined as 'the second brain', the gastrointestinal systems can dictate how we look and feel on the outside as well as on the inside.
With so much information on the internet relating to various 'superfoods' or 'villains' of food groups, it's important to get the right information to suit your individual needs. Just because some foods may work for certain people, does not necessarily mean they will work for you. Information and research is key here. Above all else, maintaining a healthy, balanced diet with plenty of activity is always a good way to stay on top of your game.
TIP: we often talk about how antioxidants are the Holy Grail of good skincare. This is because it's true, dear reader. Look no further than these four fruits; Blackberries, blueberries, strawberries, and plums. All of these are high in natural antioxidants and can help protect skin cells from damage. And if you're protecting your cells from damage, that also means you're helping to combat the premature signs of aging that often manifest in this way. It's a win-win.
So this World Health Day, we are making the subject you. Whether it's some much-needed time-out or just a handful of berries added to your morning cereal, there's a variety of simple steps you can take to ensure you're fuelling your body with good energy.
As the Beauty Editor for LOOKFANTASTIC Beauty Box I'm always hunting for a good beauty story, I like to remain ahead of the trends. But aside from this, I'm a keen reader and writer in my spare time. You'll find me with my head in a good book most of the time- Beauty & Fashion related or otherwise! You'll often find me obsessing over the latest tropical-scented body oil or lathering on the coconut moisturiser. As you may have already guessed, I have a natural affinity for all things tropical. Beauty and grooming for me is escapism, a little slice of heaven away from the day-to-day.