This year Diwali, also known as the festival of light, is being celebrated on November 14th. The festival is honoured all over the world and symbolises the spiritual victory of light over darkness, good over evil, and knowledge over ignorance. With recent events creating a wave of uncertainty across the globe, this Diwali is more important than ever to bring light, honour our sacredness and reach out to people with the best of wishes for their wellbeing. To help celebrate, we caught up with Anita Kaushal, Co-founder of Mauli Rituals, who gave us the best mindfulness and relaxation tips and tricks to keep us enlightened throughout the period. 
Morning Ritual
Step 1:
Start off your morning by waking up fresh and early to give gratitude to the things you're thankful for.Next, brush your teeth and most importantly your tongue to help remove toxins and strengthen gums to keep them nice and healthy.
Step 2:
Indulge in a warm shower to help you feel refreshed with the Reawaken Hand and Body Wash from Mauli.Perfectly balancing exquisite essential oils and deeply cleansing actives, the luxurious body wash has been expertly hand crafted with a harmonic, energising blend of over 80% organic ingredients.Transforming into a refreshing lather, the gentle formula effortlessly sweeps away dirt and impurities while uplifting your senses with a rich aroma of zesty Citrus Fruits, opulent Indian Frankincense and delicate Rose. Your skin will feel revitalised, cleansed and sumptuously soft! 
Step 3:
To finish your morning ritual, take some time to focus on yourself whether this be through meditation, reading or writing. Incorporating this into your routine will help you stay focused and ready for your day ahead.  
Afternoon Slump
Step 1:
If you find yourself in an afternoon slump indulge in things that bring you joy. Light a scented candle to help set the tone whilst enveloping your home in a divine scent. The NEOM Organics Tranquillity™ Intensive Skin Treatment Candlepositively transforms the way you feel by relieving stress and lifting your mood, ideal for aiding sleep or boosting energy. After blowing out the candle, the wax reaches the perfect temperature for application on to skin, so sit back and relax whilst you get treated to a massage.
Step 2:
To freshen up, try spritzing the luxurious Mauli Supreme Skin Rose Mist, a multi-tasking and rejuvenating facial spray.Working to help hydrate, tone and nourish even the most sensitive skin, the exquisite botanical infusion, with its healing properties, will leave your complexion feeling harmonised and hydrated. The ideal sensorial pick-me-up for any time throughout the day. 
Early Evening Rituals
Step 1:
After a long hard day take the time to fully relax and switch off. Run yourself a relaxing bath using Mauli's award winning Himalayan Healing Salts. Expertly handcrafted using only the finest methods and ingredients, the multi-layered blend combines a selection of exquisite therapeutic oils with the unique vibrational energy of Himalayan Pink Salts and the calming properties of finely milled Rose Quartz Crystals. An aromatic infusion seeks to liberate the senses and alleviate tension and stress for a truly transformative bathing experience.
Step 2:
Whilst you're soaking up, treat yourself to a facial massage to help relieve built up tension in your muscles. Use your favourite serum such as the KLORIS CBD Superboost Face Oiland massage into your face and neck to leave skin looking sculpted, rehydrated and glowing with vitality. For an extra luxurious massage try using the Revolution Skincare Jade Rollerto help further boost circulation.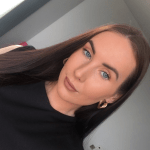 As a beauty fanatic I'm always on the lookout to try and experiment with new products! I've been writing about everything beauty for over 3 years and specialise in skincare so have plenty of tips and tricks to help put blemishes at bay and get your complexion glowing. Whilst being a content writer at LOOKFANTASTIC I've had the opportunity to collaborate with incredible brands including Tom Ford, Dolce & Gabbana and La Mer, taking my understanding of the industry to the next level. In the past I've been a freelance makeup artist and have collaborated with brands including NYX and Revolution Beauty on a personal level, sharing my makeup creations for the world to see. My ride or die brands have to be PIXI, Laura Mercier and Bobbi Brown and I can't live without my trusty MAC Velvet Teddy!