Caffeine may not be something you think to incorporate into your beauty routine but just as we rely on it for a morning wakeup call, it also has the same effects on our skin. To celebrate National Coffee Day discover the benefits of our favourite caffeine infused products to give your skin that added boost it may need, whatever time of day it may be.  
It helps fade dark circles
Perhaps the most well-known benefit of caffeine in skincare is that it helps to combat dark circles. The anti-inflammatory properties work to reduce the amount of blood that accumulates under the eyes (especially in the mornings). The caffeine then helps to promote circulation leaving you with bright and rejuvenated under eyes. Try the INKEY List Caffeine Eye Serum to help de-puff the skin and leave you feeling ready to take on the day! 
It stimulates hair growth 
Whilst caffeine works wonders on the skin it also does miracles to your hair. When applied to the scalp it penetrates cells to deliver active ingredients that promote hair growth and prevent hair loss. We recommend the Grow Gorgeous Hair Growth Serum Intense, an ultra-concentrated serum that amps up thickness, fullness and the overall density of each hair strand. It'll leave your tresses looking fuller in no time! 
It smoothes skin
Caffeine can act as both an internal and external exfoliant to help smooth skin. The ingredient dehydrates fat cells and stimulates circulation resulting in the skin appearing tighter and smoother. An external exfoliation helps to buff away dry, flaky skin to reveal a softer complexion. Our favourite is theFrank Body Original Coffee Scrub that can be used 3-5 times per week to leave skin fresh and revitalised with an all-over glow.  
It reduces inflammation
One of caffeine's most beneficial properties is that it helps to calm inflammation. Packed full of antioxidants the ingredient prevents the damaging of cells and in turn reduces inflammation in the body.The Ordinary's 5% Caffeine Solution + EGCG counteracts puffiness and reduces the appearance of discolouration, fatigue and stress. Everything you could want in a morning shot! 
It can treat Rosacea
If you haven't worked out that caffeine is a miracle by now, wait until you find out it can treat Rosacea! As it is such a powerful antioxidant it has the properties to calm redness, irritated and blotchy skin. Try Chantecaille Retinol Intense+ to help even out your complexion whilst providing a barrier of moisture. Hyperpigmentation is also reduced allowing a luminous glow to shine through. 
Shop all caffeine infused products at LOOKFANTASTIC here.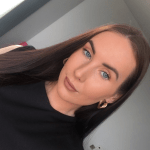 As a beauty fanatic I'm always on the lookout to try and experiment with new products! I've been writing about everything beauty for over 3 years and specialise in skincare so have plenty of tips and tricks to help put blemishes at bay and get your complexion glowing. Whilst being a content writer at LOOKFANTASTIC I've had the opportunity to collaborate with incredible brands including Tom Ford, Dolce & Gabbana and La Mer, taking my understanding of the industry to the next level. In the past I've been a freelance makeup artist and have collaborated with brands including NYX and Revolution Beauty on a personal level, sharing my makeup creations for the world to see. My ride or die brands have to be PIXI, Laura Mercier and Bobbi Brown and I can't live without my trusty MAC Velvet Teddy!