We spend a lot of time applying cleansers, exfoliants and moisturisers to our skin, we can often forget one of the most fundamental areas: the eyes. When you're tired, it can be difficult enough to spend time cleansing (but you must never ever forget), so we often leave out the eye cream add-on.
The skin under your eyes is one of the most delicate parts of your body. As a result, it can show signs of fatigue, poor diet and stress more easily than anywhere else on your face.
How Important Are Eye Creams?
Eye creams are undeniably one of the most important aspects of your skincare routine. As the skin around your eyes is one of the thinnest on your body, it will show the signs of ageing faster than other areas, such as your general complexion. Eye creams help to reduce dark circles, banish fine lines and minimise puffiness to leave you looking bright-eyed and beautiful.
How to Apply Eye Cream
Eye cream should always be applied in a patting rather than rubbing motion. Rubbing the cream into your skin can cause damage to the delicate skin, so instead opt to apply with your ring fingers and tap into your complexion.
How Much Eye Cream Should I use?
You only need a pea-sized amount of eye cream to cover both eyes. As eye cream is concentrated, you don't need a lot, and you don't want to overload your skin with an unnecessary amount of product. Apply underneath and to the contours of your eyes for the best results.
Ingredients To Look Out For In Eye Cream
When it comes to choosing the right eye cream for your skin type and concern, lookout for the following hero ingredients.
Peptides:

Support collagen production to uncover fresh, regenerated skin.

Hyaluronic Acid:

Excellent for hydrating as it attracts water to help plump the appearance of skin.

Ceramides:

Help to prevent moisture loss.

Antioxidants such as Vitamin C:

To help brighten the skin.

Retinoids

: To help minimise the signs of ageing including fine lines and wrinkles.

Caffeine:

To help brighten the under-eye skin and fight signs of fatigue.
Which are the best eye creams?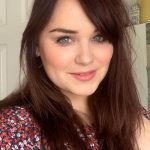 I've been writing about hair and beauty for over 10 years. I am a collector of vintage perfume and my go-to look always includes a bold pink lip! For more, visit https://www.goodgollymisshollie.co.uk