We're guessing you have landed here because your gel manicure needs removing pronto! Perhaps you haven't been able to get to the salon, or you'd prefer to learn the tricks of the trade yourself. Whatever the reason, you've come to the right place as we've called in the UK-based nail technician, Jodie Handley, to show you how to remove gel nail polish properly in our expert step by step guide. It's time to wave goodbye to outgrown, chipped gel nails and say hello to gorgeous natural nails.
Watch the following video from 7:38 onwards
Meet The Expert, Jodie Handley Of Jodies Nail Lounge
Jodie Handley, best known on Instagram and YouTube as 'Jodies Nail Lounge', is a talented nail technician who regularly creates expert tutorials for her 31,000 subscribers showcasing the very best nail techniques. Removing gel nail polish couldn't be easier following Jodie's tutorial created exclusively for LOOKFANTASTIC. Follow along and swot up on the skills with this easy expert guide on how to remove gel nail polish. Follow Jodie on Instagram
How To Remove Gel Nail Polish
Step 1: Buff over your nails with a nail file
(Timestamp for clip 7:43)
Begin by buffing over your gel manicure using a nail file to remove the shine from the surface of the nail. Do this for as long as it takes to remove as much gel nail polish as necessary. Don't forget to also file around the free edge to break the seal where the gel has adhered to your natural nail.
Step 2 - Remove the residue and apply remover pads
(Timestamp for clip 08:03)
 Now it's time to remove any residue left behind from the nail filing. Once your nail is free from filing dust, take a remover pad and place it over your nail, ensuring that the pad covers the entire surface of your nail.
If you are using the same remover pads as Jodie, don't forget to take the tape off of the packet before wrapping the sides of the packet around your finger, just as Jodie does. Once all of your nails have been wrapped, wait 20 minutes for the formula on the pads to break down the gel polish.
Step 3 - Scrape away the gel polish
(Timestamp for clip 08:38)
It's time to scrape away the old gel from your nail. Take a cuticle pusher and use it to gently scrape away the gel polish. If you find that the gel isn't coming away as easily, simply pop the remover pads back on for 5 more minutes.
Step 4 - Buff your nails again
(Timestamp for clip 09:00)
Once your nails are free from the gel polish, buff your nails with a file to ensure your nails are completely clean and looking beautiful.
Step 5 - Apply Cuticle Oil
(Timestamp for clip 09:12)
Apply cuticle oil to your nails to help condition them after your gel nail removal. Cuticle oil is enriched with vitamins and natural oils to help hydrate and replenish your nails. It also stimulates the nail beds making way for stronger healthier nails.
When removing gel nail polish, it's important to resist the temptation to pull or pick the polish off as it will damage your natural nails underneath. By following Jodie's easy step by step you can prevent any unnecessary damage to your nails, ready for your next gel manicure.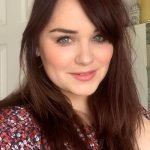 I've been writing about hair and beauty for over 10 years. I am a collector of vintage perfume and my go-to look always includes a bold pink lip! For more, visit https://www.goodgollymisshollie.co.uk