New month, new box! With the March Lookfantastic Beauty Box all sold out, it is now your chance to be the first to get your hands on the April #LFBEAUTYBOX. We won't spoil the surprise (because half the fun of the Beauty Box Subscription is uncovering all the treats each month!) but we thought we would give you a little sneak peek into this month's box.
The #LFBLOOMS Beauty Box
This month's box is one for all the natural beauty fans. With spring on the way and April being Earth Month, what better time to showcase some of the incredible natural beauty brands here at Lookfantastic?
The April #LFBLOOMS Beauty Box is filled with beauty treats that will make you feel as good as they make you look. From luxurious essential oils to clever natural alternatives, you'll find all the best ingredients inside this month's Beauty Box. We're so excited for our #LFBEAUTYBOX twitter chat on the 14th of April, when we'll be able to reveal all of the brands inside the box!
This month's box is worth £50.40 and available from just £11.25 with our subscription deals, which is amazing value. We deliver worldwide, so you can join the #LFBEAUTYBOX community wherever you are in the world. To find out which amazing brands are inside this month, you'll have to treat yourself to a box!
If you still want to find out more before you commit, then keep an eye on our posts and the @Lookfantastic twitter account because we'll be letting you in on all the details over the next few weeks. Don't wait too long though, we wouldn't want you to miss out!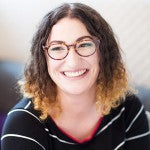 Major fan of scented candles, Make Up brushes and Highlighter. I'm always on the hunt for those Holy Grail products and my dressing table is covered in more beauty products than I like to admit. As an adopted Northerner originally from Brighton, I spend most my days wondering what all this rain is about. My hair isn't grateful for the move. Currently loving:
NIOD Photography Fluid