When it comes to haircare, many people forget that gorgeous locks begin at the scalp. Whilst this delicate skin remains hidden, taking care of your scalp is one of the most crucial things you can do to promote thick, healthy hair. We caught up with Scott Evans, Education Manager at Nioxin, who gave us the lowdown on how you can transform your locks with proper scalp care.  
Why is scalp care so important?
When it comes to skin care, we all understand the importance of healthy skin and when cared for properly, radiant skin makes us look and feel our very best! However, we forget that the scalp is just as important and the skin on our scalp is an extension of the skin on our face. Therefore, it's super important to look after it the same way, especially when we all want radiant, fuller & thicker hair.
What are the key ingredients that promote a healthy scalp?
When cooking a special meal, the secret is adding key ingredients and at specific times until the desired result is achieved. You would never add all your ingredients at the same time and expect exquisite results. Well, the exact same can be said for hair care.
Nioxin focuses their best-selling 3 step regime around the same 3 steps as a good skin care routine:
Step 1: Cleanse 
Begin with the Nioxin scalp cleanser. This contains white tea extract which has anti-ageing properties, and is designed to reduce stress on the scalp. This cleanser also contains a small amount of salicylic acid which helps to remove follicles clogging with sebum, fatty acids and environmental residues from both the scalp and hair.
Step 2: Revitalise  
Follow your cleanse with the Scalp Revitaliser. This is a density protector that contains the key ingredients Caffeine & Peppermint oil to help stimulate the scalp and provide hair resilience whilst also controlling moisture balance.
Step 3: Apply Treatment  
Next, use our Scalp Treatment. This is a leave-in diameter increaser containing a Bio Amp & Smooth Plex technology. The treatment provides thicker and fuller hair strands instantly when applied directly onto the scalp before blowdrying or styling.
Step 4: Apply a follow up treatment 
After the Nioxin 3 step regime you would follow this with a Nioxin 3D intensive treatment to target specific needs such as a thinning hairline, increased hair loss or a blow dry thickening treatment for fine and limp hair.
By working in this methodical process along with key ingredients applied at certain steps will achieve the perfect environment for a healthy scalp, and allow hair to grow to its full potential.
How often should you deeply cleanse your scalp?  
Many people believe that washing hair every day is bad for you. However, the fact is that daily washing does not compromise the hair. At Nioxin, we regularly see clients who suffer with hair loss and thinning concerns and these issues can be made worse or brought on by not regularly or properly cleansing their hair and scalp. If you allow dead skin cells and debris to build up, this will speed up the aging process and encourage hair loss and thinning hair. Nioxin recommend cleansing every or every other day with the Nioxin System Kits to keep the scalp in optimal condition for stronger, thicker and fuller hair.
What is the best way to prevent product build-up on the scalp?
Build up on the scalp can be caused by a variety of situations and causes. If you are a frequent user of heavy styling products such as waxes, pomades, lacquer, styling sprays and dry shampoo, the result can be product build up on the scalp that will begin to clog the hair follicle and restrict hair from growing. Product build up can also cause miniaturisation of the hair strand which means over time the hair becomes finer as it cannot grow to its full potential.
Using the Nioxin 3 step System Kits regularly and choosing professional styling products that support scalp health such as the Nioxin 3D styling range will reduce the effects of buildup. The Nioxin 3D styling range promotes fullness and thickens the hair when styling but can easily be removed when shampooing to ensure the hair and scalp are free from buildup and the hair has the best environment to grow.
If you are suffering from a flaky, dry or clogged scalp, your first step would be to have a salon professional Nioxin dermabrasion service. This service is the ultimate scalp exfoliator to remove any build up and rejuvenate the scalp! A Nioxin dermabrasion service can only be performed by a professional in salon and takes around 30mins from start to finish.
Can good scalp care help to prevent hair loss? 
NIOXIN is for anybody at any age who wants to maintain a healthy scalp environment and have fuller, thicker and healthier hair. Good scalp care is the key to preventing premature hair loss but when it comes to individuals suffering from genetic hair loss, they should always consult a doctor to determine the best solutions that is right for them.
Find the full NIOXIN range at LOOKFANTASTIC.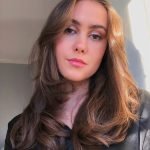 As someone with an affinity for all things beauty, discovering fantastic new products is my not-so-secret obsession. Over the years I've tried and tested a mountains worth of creams, serums and cleansers, finding some of my favourite 'holy-grail' products along the way. However, I'm always on the lookout for more ways to nourish my hair, perfect my dewy base, or enhance my skincare routine. Working as a beauty blogger for over 3 years, I've been lucky enough to collaborate personally with lots of amazing beauty brands including Christian Dior, The Body Shop and Dermalogica. I've used the Dermalogica special cleansing gel religiously since I first got it and their products are some of my ultimate skincare faves. When it comes to cosmetics, NARS Sheer Glow foundation is definitely my go-to - I live for a light, glowy base!