Choosing a new perfume is often a really personal choice and with so many different fragrances available, it can be tricky to find the one. One way to find a musky perfume that ignites your senses is to narrow your choices down to a particular fragrance family. Perhaps you're naturally attracted to scents that are floral or spicy, perhaps you like scents that are woody, fruity or musky?
If you fall in into the latter camp, you call upon fragrances that have a base of musk as part of your signature scent. Here at LOOKFANTASTIC, we love musky perfumes, they're subtle and balanced, sophisticated and warm. If you're looking for the best musky perfumes, or curious to see which perfumes carry notes of musk, then keep on reading to discover the most heavenly musk perfumes we have waiting for you.
Which are the best musky perfumes?
Musky notes are brilliant at balancing other ingredients making your fragrance last longer. Discover 5 of the best musky perfumes to try...
The Molton Brown Milk Musk Eau is a sensuous and warm musk scent that opens with Elemi's clean balsamic essence. The fragrance unfolds into smooth Vanilla with gentle Musk and subtle hints of Ambroxan. A creamy base of Tonka Bean paired with balmy Benzoin completes the scent. Simply sumptuous!
Top Notes: Elemi.
Heart Notes: Musk, Ambroxan, Vanilla.
Base Notes: Benzoin, Tonka Bean.
The YSL Libre Eau de Parfum combines aromatic French Lavender with top notes of vibrant Tangerine and Neroli. The fragrance's sweet, slightly herbal nuances descend into a heart of Jasmine and Moroccan Orange Blossom. The creamy base of Madagascan Vanilla and White Musks make for a seriously sensual scent.
Top Notes: Tangerine, Neroli, Lavender.
Heart Notes: Jasmine Sambac, Orange Blossom.
Base Notes: White Musks, Vanilla Extract.
The Marc Jacobs Daisy Love Eau So Sweet Eau de Toilette bursts open with notes of White Raspberries, mingled with a heart of delicately earthy Daisy petals. The fragrance is deepened further with a warming and honeyed base of Sugar Musks making for a light, fresh and addictive scent.
Top Note: White Raspberries.
Heart Note: Daisy Tree Petals.
Base Note: Sugar Musks.
Discover the seriously seductive fragrance of Versace Woman Eau de Parfum, a modern scent that exudes elegance. Opening with Frangipani Blossom, Jasmine and juicy Bergamot, the sensuous perfume is enhanced by a heart of Lotus, Raspberry and Prune, before succumbing to an enticing based of Amber, Hinoki Wood and Musk.
Top Notes: Frangipani, Jasmine, Bergamot.
Heart Notes: Lotus, Prune, Raspberry.
Base Notes: Musk, Amber, Hinoki Wood.
The philosophy Pure Grace Fragrance is a refreshing eau de toilette that has a revitalising soap and water scent powered by Water Lily, Leafy Greens and frosted Musk. Offering a clean and simple perfume, the delicate fragrance will leave skin smelling shower-fresh all day long.
Top Notes: Water Lily
Heart Notes: Leafy Greens
Base Notes: Frosted Musk
We hope we've helped you find a new musky signature scent that will bring joy on every spritz.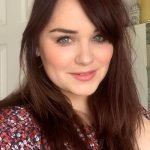 I've been writing about hair and beauty for over 10 years. I am a collector of vintage perfume and my go-to look always includes a bold pink lip! For more, visit https://www.goodgollymisshollie.co.uk