Pollution is the hot topic in skincare right now and Elizabeth Arden's Prevage City Smart is one of the latest protective products that we have fallen in love with. Find out everything about it here.
What is the Prevage City Smart For?
Everyday, we put our skin under stress. Everytime we leave the house it has to fight against the impact of UV rays, dirt, our makeup and, of course, pollution.
We know that UV rays can be harmful for the skin, but studies have shown that pollution is just as harmful, accelerating ageing thanks to its impact on Elastin, Collagen and moisture in the skin.
80% of all signs of skin aging are due to environmental aggressors such as UV rays, pollution and smoke - Elizabeth Arden UK
The whole Prevage range has been designed to fight against these environmental aggressors, with everything from intense serums to cleansers. Now, the City Smart is here as the one-stop protection your skin needs everyday.
How Does it Work?
The Prevage City Smart is a tinted daily protector that you can apply at the end of your morning skincare routine.
With a universal tint that adapts to your skin tone and optical diffusers that help to leave your skin looking even and smooth, it can be used alone or as a base for your daily makeup.
It works in 3 different ways to fight the impact of external aggressors:
It protects.

With a factor 50 broad spectrum SPF, it protects against UVA and UVB rays at the same time as Elizabeth Arden's targeted formula provides a protective barrier against toxins and particles.

It prevents.

To stop the free radicals produced by pollution and UV, Elizabeth Arden have developed a powerful blend of antioxidants including Idebenone, Green Tea and Ferulic Acid. This helps minimise damage to the skin and reduce the chance of premature ageing.

It strengthens. 

The City Smart helps strengthen your Collagen and Elastin so that your skin looks healthier. With a DNA Enzyme Complex made up of purified enzymes, it helps support the skin's natural processes so it can repair and recover from environmental stresses.
It feels light and hydrating on the skin for a comfortable feel all day long, making it so easy to incorporate into your daily routine. Our beauty editor Katie has been using it everyday for the last month, she loves it so much!
Try it for yourself and help your skin stay safe everyday.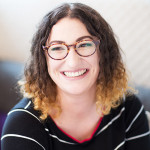 Major fan of scented candles, Make Up brushes and Highlighter. I'm always on the hunt for those Holy Grail products and my dressing table is covered in more beauty products than I like to admit. As an adopted Northerner originally from Brighton, I spend most my days wondering what all this rain is about. My hair isn't grateful for the move. Currently loving:
NIOD Photography Fluid