As part of our celebration of beauty, power and strong women this month, we have asked people we admire in the beauty industry to answer some questions on their journeys and experiences in the business.
Today, it is the turn of Lynsey Alexander, Estée Lauder UK Makeup Ambassador. With the brand founded by such an inspirational woman, Estée Lauder herself, it is no surprise that this is a company that has nurtured its female staff. Here's what Lynsey had to say about her experiences.
A Q&A with
Lynsey Alexander, Estée Lauder UK Makeup Ambassador
Q

How did you begin your career in the beauty industry?

A

I quit my degree studying philosophy in Scotland and ran off to London after finding a makeup school in the back of Vogue magazine. I was 18.

Q

How do you begin your day with a positive attitude?

A

On a dream day I'd begin it by riding my horse through Richmond Park early in the morning. Nothing makes you appreciate nature and all the things in the world you are grateful for than some quiet time doing something you love.

Q

What has been the defining moment in your career?

A

Leaving a huge company after 10 years, thus losing all sense of security and familiarity. I then threw myself into the unknown in the form a freelance career.

Q

What beauty product is your source of power?

A

Undoubtedly a red lipstick, particularly Estée Lauder's Pure Colour Envy Matte Lipstick in Volatile. It makes me feel confident, glamorous and ready for the working day ahead.

Q

What advice do you have for women starting out their careers?

A

Find something you really love and strive to be the absolute best at it. Then it won't feel like work.

Q

What, for you, is the best thing about being a woman?

A

Quite simply make up. It has the ability to transform and translate so many things without even talking.

Q

Who is your female role model?

A

Estée Lauder. She is famously quoted for saying 'I never dreamed about success. I worked for it'. This is an incredible inspiration and reminder to all that anything is possible if you work hard enough.

Q

What advice would you give your 20 year old self?

A

As Estée Lauder also once said, "Beauty is an attitude".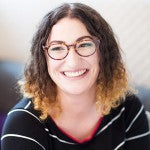 Major fan of scented candles, Make Up brushes and Highlighter. I'm always on the hunt for those Holy Grail products and my dressing table is covered in more beauty products than I like to admit. As an adopted Northerner originally from Brighton, I spend most my days wondering what all this rain is about. My hair isn't grateful for the move. Currently loving:
NIOD Photography Fluid