Niacinamide is an excellent all-rounder ingredient to include in your skincare routine. Wondering what Niacinamide actually is? Then keep reading to learn more about one of the most popular beauty buzzwords of the year. We've also rounded up the very best Niacinamide skincare products to add to your routine. 
What is Niacinamide and what are the benefits of using it? 
Niacinamide is one part of the Vitamin B3 molecule and naturally occurs in meat, fish and grains. Niacinamide has many benefits for your skin thanks to its powerful antioxidant properties.  
Niacinamide works by prompting skin cells to regenerate fresh new cells to improve your visage. Niacinamide is also an antibacterial, which means it helps regulate sebum production and get blemishes under control. 
Key benefits of Niacinamide 
Niacinamide protects your skin from environmental damage.
Niacinamide helps improve hydration[1].
Niacinamide helps to reduce hyperpigmentation[2].
Niacinamide helps reduce large pores.
Niacinamide can reduce inflammation.
Niacinamide helps minimise fine lines and wrinkles[3].
Which skin types is Niacinamide best suited to? 
Niacinamide is so diverse it is suitable for all skin types to use due to the way it tackles so many different skin concerns. What's even more interesting about Niacinamide is the way it interacts well with other skincare ingredients including hyaluronic acid, AHA's, BHA's and retinol. 
Topical Niacinamide is commonly formed as a serum, moisturiser or cleanser. Niacinamide concentration can vary across products, though most formulations are 5% or less. 
How often can I use Niacinamide? 
You can use your Niacinamide skincare products as often as you like. So, if you have both a morning and a nighttime skincare routine, use it on both occasions. 
The best Niacinamide skincare 
The best pure Niacinamide skincare 
For a concentrated application of Niacinamide, choose The Ordinary's 100%  Niacinamide Powder. This fine powder texture offers a water-soluble form of  
Vitamin B3. Ideal for oily skin prone to breakouts, the powder gets to work on balancing your skin's production of sebum. This powder is designed to be mixed with water-based skincare products, quickly dissolving to create an undetectable, smooth texture.
The best Niacinamide skincare for blemishes 
Ideal for blemish-prone skin, the Revolution Skincare Niacinamide Essence Spray is a vegan face mist that is enriched with Niacinamide and camomile. This nutrient-packed facial mist targets areas of congestion, helping to alleviate the visibility of pores and angry blemishes for a refined and radiant visage.
The best Niacinamide cleanser 
The CeraVe Foaming Facial Cleanser is a luxurious gel that transforms into a weightless non-drying foam that removes excess oil and impurities from the skin. A blend of three essential ceramides and Hyaluronic Acid replenish vital hydration, whilst Niacinamide soothes any irritation.
The best Niacinamide mask 
Wake up with plumper, smoother and firmer skin thanks to the Olay Regenerist Overnight Mask With Niacinamide. This anti-ageing mask helps to improve the look of wrinkles whilst restoring your skin's elasticity. Spreading smoothly over your face, the wipe-off mask works its magic in five-minutes all thanks to age-defying peptides.
When used topically every day, Niacinamide may have a positive impact on tackling your skin concerns and needs. As is the case with all skincare, be consistent with your usage to achieve maximum results.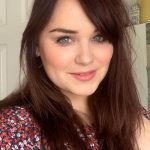 I've been writing about hair and beauty for over 10 years. I am a collector of vintage perfume and my go-to look always includes a bold pink lip! For more, visit https://www.goodgollymisshollie.co.uk