The beauty world has been buzzing about facial cleansing brushes and they have become a skincare staple for loads of us. I use mine every single day! Now there is so much choice on the market, it can be hard to know which one to go for. We thought we would put together a guide so you can work out which brush is best for you before you take the plunge into the world of skincare systems.
What does a Cleansing Brush Do?
Cleansing brushes, cleansing systems, sonic brushes... there are lots of different names for these brushes but they are all aimed at the same thing; cleansing the skin. Put simply, cleansing brushes are a different way to remove makeup and cleanse the skin. They have been proven to cleanse the skin more deeply and effectively than hands and cloths alone, making them a must-have beauty gadget for most skincare lovers.
There is a lot of complicated terminology surrounding cleansing brushes that can make it hard to know what the difference is between the different types, how they work and how they effect the skin.
Why Go for Sonic?
When we say 'Sonic', this refers to cleansing brushes which use oscillation (that's vibration to most of us) to cleanse the skin. Cheaper versions often involve rotating brushes, which spin rather than vibrate. This drags the skin and can exfoliate much too harshly for everyday use. You can also buy static facial brushes that you use to manually scrub the face, which again is more about exfoliation than deep cleansing.
Sonic cleansing brushes work differently, with the oscillations helping to push dirt and grim out of the pores, for deep cleansing without harsh exfoliation. All of the brushes we are talking about today class as sonic brushes, with pulsations that start from 9,000 oscillations per minute.
How Do You Use It?
Whilst each brush will have slightly different guidelines for use, there are some basic instructions which will work with all of them, so you can get the most out of whichever one you choose. The key thing is to make sure you aren't too harsh on your skin by using them wrongly. Our tips are:
Hold the brush against the skin and move it in

small circular motions

. Don't press it into the skin. This will allow your brush to gently exfoliate without dragging the skin.
Start on your forehead, then move down onto the nose and finish on the cheeks.

Avoid the delicate skin around the eyes

and stick to eye makeup remover and cotton pads to remove eyeshadow and mascara.
Most brushes now have some kind of timing reminder so that you don't use them too long. Ideally, you want to

use your brush for 1 minute

, morning and evening (although more sensitive skin might prefer using just once a day).
If you are using a cleansing brush with replaceable heads, these should be changed at least

every 3 months

, to prevent bacteria build up or bristles becoming damaged.
Those who suffer from sensitive skin conditions like Rosacea should avoid cleansing brushes as they may exacerbate inflammation on delicate skin.
Only use a cleansing brush with

non-abrasive cleansers

. Avoid any cleansers with exfoliating beads or scrubs, as your cleansing brush will offer you just the right amount of exfoliation.
Which One Should You Choose?
Here on Lookfantastic we stock a number of leading brand cleansing brushes and systems. Whilst they will all give you beautiful, clean and bright skin, we have summarised the differences between 5 of the best cleansing brushes so you can work out which one suits you.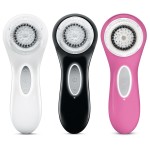 1.
Clarisonic
The
Clarisonic brushes
are the original cleansing brushes. They were the first on the market and are the brand that most people recognise. The Clarisonic systems start from around
£125
and there is a wide range of accessories, cleansing washes and brush heads to choose from. The best known are the
Mia 2
and
the Aria
.
The Mia
has two different speed settings, and the rechargable battery lasts for around 10 days use. It is waterproof.
The Aria
is more sophisticated still, with a 3 speed settings and a battery which lasts for around 15 days. It also comes with a drying stand. Both brushes have the option for using sensitive brush heads and are fully waterproof. To prevent over exfoliation, Clarisonic uses a one-minute pulsing
T-Timer
which tells you how long to cleanse for.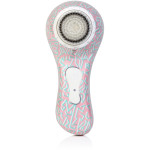 2.
Magnitone
Magnitone
is a British brand, offering colourful and effective cleansing brushes. We especially love their
limited edition collaboration with Laura Callaghan
right now. Starting from around
£70
, Magnitone currently offer the
BareFaced!
and the
Full Monty
 versions, with a selection of alternative brush heads and accessories. The
Magnitone Barefaced!
is a daily cleansing brush which has two different modes- one for cleansing and one for a circulation boost. It oscillates in 20 second bursts to help remind you when to move onto the next section of your face and stops after 1 minute to prevent over exfoliation.
The Full Monty
is designed for face and body, with 5 different modes including sensitive and interchangable heads. Both brushes are 100% waterproof.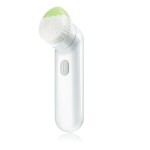 3.
Clinique
Clinique
worked with dermatologists to develop their
Sonic System Purifying Cleansing Brush
, retailing from
£79.00
. It is waterproof, with an ergonomic handle to make it simple to use. Unlike other cleansing brushes, there isn't a huge range of brush heads for different skin types. Instead, the brush head is
designed to work with all skin types,
with an angled tip to target the t-zone whilst the white bristles are gentle on the cheeks. If you do suffer from more blemish-prone skin, then there is a
specific brush head
designed to combat breakouts. It also has an automatic shutoff after 30 seconds and keeps its charge for 180 minutes.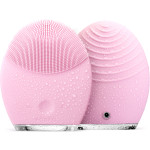 4.
FOREO
The
FOREO
cleansing systems are different to most other cleansing brushes, as they don't involve bristles or changeable brush heads. The FOREO cleansing brushes are made from
bacteria-resistant silicone
with soft touch points that pulsate to deep cleanse. There are different versions for normal, combination, oily and sensitive skins, which provide the right amount of exfoliation for different skin types. Don't know your skin type? We can
help you work that out
. The
FOREO LUNA 2
is the most popular version, retailing for around
£149.00
. It has 12 different intensity settings and the rechargeable battery lasts for 450 uses. The
Cleansing Mode
has a time reminder at 1 minute and then also has a second
A
nti-ageing Mode to help boost circulation and product absorption.
FOREO have also just launched the LUNA Play, which is a miniature version of the LUNA. All the FOREO brushes are 100% waterproof.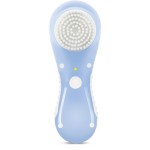 5.
Rio
The 
Sonicleanse Facial Cleansing and Exfoliating Brush
from 
Rio
 is the most affordable of the 5 brands featured here, available for around
£49.99
(although you can currently save £10!). There is a smaller range of brush heads than with other brands but you can still buy sensitive and body versions to get the most from your cleansing brush. The
Rio Sonicleanse
 is water-resistant and rechargable, with
adjustable power levels
to suit your skin needs. With a 20 second interval timer, it is also simple to guide you through your cleanse.
Any of these brushes would be a brilliant addition to your skincare regime, offering deep cleansing, exfoliation and circulation boosts for glowing skin.
Whether you prefer a long lasting battery for travelling, or a wide variety of brush heads that can work all over the face and body, you can guarantee one of these is perfect for you.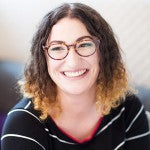 Major fan of scented candles, Make Up brushes and Highlighter. I'm always on the hunt for those Holy Grail products and my dressing table is covered in more beauty products than I like to admit. As an adopted Northerner originally from Brighton, I spend most my days wondering what all this rain is about. My hair isn't grateful for the move. Currently loving:
NIOD Photography Fluid