With many of us across the country working from home in a bid to self-isolate and stay safe from COVID-19, we know how tricky it can be to adjust to a new routine. If you're not used to working from home, you're probably thinking of ways to keep up your usual habits, such as your beauty regime. Whilst you might not necessarily choose to apply a full face of makeup everyday, there are small changes you can make to your beauty routine to make it more home-friendly. We've rounded up the beauty essentials that'll keep you safe and feeling fantastic...
Hand Wash
If you're working from home, make sure you've got hand wash stocked in your bathroom and kitchen. You're more likely to be prepping food, going for a walk or working out on your lunch break, so it's important now more than ever, to thoroughly wash your hands and keep them clean from germs and bacteria.
Room Spray & Diffusers
Whether you're working from your dining table, living room sofa or your bedroom, it's important to keep your room smelling fresh and clean. A room spray or diffuser can help to boost your mood and senses, making you feel more invigorated. Certain fragrances can also make you feel calm and relaxed, helping to reduce any feelings of anxiousness you may have at this uncertain time.
Vitamins & Supplements
Put your health first and care for your body on the inside too. Vitamins and supplements can be incorporated into a healthy, balanced diet and can work to boost the immune system and improve the appearance of the skin, hair and nails. Make sure you carefully read the instruction leaflet before consumption.
Hair Mask
Working from home means you can get away with not styling your hair every morning. Instead, apply a treatment, such as a mask, to your hair and leave it to do its magic while you work. This way, you'll have healthier, shinier and more luscious locks that won't be damaged from heat or pollution.
Teeth Whitening
Whilst you won't be speaking to colleagues or clients face to face, you probably have plenty of video calls scheduled in your diary. Make sure you keep your teeth in check and use the time in between meetings to apply teeth whitening products. This will ensure you make a dazzling appearance with your pearly whites on your next video conference.
Camera-Ready Skincare & Cosmetics
On the topic of video calls, get your complexion camera-ready with the skincare products and cosmetics designed for a 'photo finish'. Whether you're looking for a primer to even your skin tone or a foundation that makes your skin look flawless on camera, find yours here.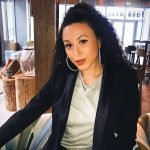 As a beauty obsessive, I'm always trialling and testing new, exciting brands and product discoveries. With over 6 years' experience in beauty writing, including freelancing on the Net-A-Porter beauty desk, I have lots of useful beauty hacks, tips and tricks to share. I'm constantly seeking the latest hair products to make my curls ultra-bouncy and defined. The Cantu Coconut Curling Creme is my Holy Grail! My lipstick collection is always expanding – and my favourite lip product of the moment has to be a nude lipgloss for the ultimate everyday look.