The most anticipated beauty collection of the season has landed at lookfantastic! The MAC Starring You Christmas collection is every make-up lover's dream. Filled with more drama, glam and sass than before, this beauty drop is guaranteed to make you out-sparkle the crowd at your next lavish event. We've rounded up all the products you need for creating the ultimate party make-up look...
FACE
Bronze, sculpt and contour your face to perfection with the MAC Star-Dipped Face Compact. Not your ordinary compact, this set is made for the party season. Housed inside a glittering case and embossed with a unique star design, this face compact includes the Extra Dimension Blush, Skinfinish and Bronzing Powder. Wear it every day or at night for maximum impact.
No party make-up look is complete without a glowing highlighter. The MAC Opalescent Powder will certainly place you in the spotlight this season. Boasting a pink hue with flecks of rose gold shimmer, sweep this lightweight powder across your cheekbones and bridge of your nose until you've achieved your desired level of coverage.
The key to a flawless face is all about the precision of application. This means using the right tools to apply your make-up with attention to detail. After all, no make-up collection is complete without an amazing brush set! The MAC Brush With the Stars Kit features five mini brushes for foundation, cheeks, eyes and brows. Inside a sparkling pouch, use this brush set to apply your make-up and your party look will be complete.
EYES
Exclusive to lookfantastic, the MAC Star Dazzler Kit is a Christmas beauty must-have. Comprising four sparkling liquid shades that can be used on your eyes or lips, you'll certainly dazzle them all this season. Wear these metallic hues on their own or over eyeshadow or lipstick for an eye-catching glowy finish. Hurry, this kit won't be around for long!
Create the perfect smoky eye this party season with the MAC Star-Sighting Palette. Filled with six stunning shades in matte and metallic formulas, this eyeshadow compact can be used lightly or built up for a more intense finish. The Star-Sighting Palette in shade 'Neutral' is made up of a mix of beige, gold and plum tones that will create a striking impact.
Looking for a go-to party eyeshadow? Look no further than the MAC Spellbinder Eyeshadow. Formulated with rich flecks of powder that have been pressed to create an ultra-metallic effect, this eyeshadow comes in five shimmering shades. Apply with your finger or blend out with a brush to create a smoky finish.
LIPS
Obsessed with the rich, creamy texture of MAC lipsticks? Then the MAC Taste of Stardom Mini Lipstick Kit is the perfect treat for yourself or a loved one this Christmas. This stunning giftset comes complete with 12 pocket-sized lipsticks in a range of peach, pink and berry hues. Designed to suit all complexions, mix and match these lipsticks depending on where you're heading out to. The glamorous @sydneymaycrouch shows you how to flaunt all 12 shades...
Pucker up with the MAC Starlit Lip Bag. This handy kit has all you need to create the ultimate nude lip. So, get ready to perfect your pout this season (whether you'll be under the mistletoe or not!). Complete with a Lip Pencil (Dervish), Lipstick (Aspiring Star) and Lipglass (Among the Stars), this nude lip kit is housed inside a beautiful metallic black and rose gold cosmetics pouch.
Count your lucky stars this Christmas with the MAC Lucky Stars Lipstick Kit. Ideal for those who love to rock a bold lip, the 'Sultry' Lipstick Kit contains 3 of the brand's iconic vibrant shades: Cosmic Comic, Ruby Woo and A Star Walks Into A Bar. Encased in the MAC Starring You Christmas packaging, these lipsticks come complete with a sparkling pouch, perfect for holding your party essentials.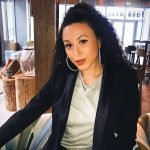 As a beauty obsessive, I'm always trialling and testing new, exciting brands and product discoveries. With over 6 years' experience in beauty writing, including freelancing on the Net-A-Porter beauty desk, I have lots of useful beauty hacks, tips and tricks to share. I'm constantly seeking the latest hair products to make my curls ultra-bouncy and defined. The Cantu Coconut Curling Creme is my Holy Grail! My lipstick collection is always expanding – and my favourite lip product of the moment has to be a nude lipgloss for the ultimate everyday look.