Introducing Redken's latest innovation and the next generation in oil care… Redken Diamond Oil Shatterproof Shine. These new oils take oil based hair care in a whole new direction, delivering both strength and shine to all hair types. Available in two formulations for both fine and thick hair, Redken's Diamond Oil offers luxury hair care solutions in stunning packaging worthy of any beauty cupboard.
Redken Diamond Oil Shatterproof Shine
Silicone-free and comprising of 99% natural oils, this amazing hair oil is extremely versatile. It can be used as a pre-shampoo treatment, overnight treat, pre blow-dry and as a finishing product for stunning, head swishing shine. Inspired by the world of fragrance, the glass bottle and unique pipette dropper help to dispense the rich, nourishing oil one drop at a time for total control on usage.
The blend of oils in Diamond Oil really soak into the hair to nourish deeply without coating the hair cuticle. It is filled with hair friendly oils including Camelina Oil, Coriander Oil, Apricot Oil and Coconut oil to name just a few.
The amber bottle is designed for fine to normal hair in need of some TLC, whilst the black bottle is the intense version which is perfect for softening thick, unruly hair.
How to use Diamond Oil
There are lots of ways to use this amazing product, at every stage of your hair routine:
Pre-Shampoo. Apply to dry hair and scalp. Wait 2-3 minutes and then shampoo thoroughly Overnight Treatment. Apply to damp or dry hair prior to bedtime before washing out in the morning. As a Conditioning Mask. Blend with mask and leave on damp hair for 5-15 minutes. Rinse thoroughly Pre-Blow Dry. Apply to towel-dried hair prior to styling products. Apply at driest areas of the hair first On Dry Hair. Apply to dry hair starting at the frizziest, most distressed areas first, then work remainder of product through the hair. Reapply as needed On Dry Skin and Scalp.  Apply oil on hands and scalp as needed to reduce dry skin
Whichever way you use it, you'll be left with beautifully soft and shiny hair!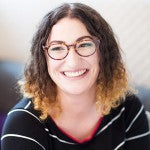 Major fan of scented candles, Make Up brushes and Highlighter. I'm always on the hunt for those Holy Grail products and my dressing table is covered in more beauty products than I like to admit. As an adopted Northerner originally from Brighton, I spend most my days wondering what all this rain is about. My hair isn't grateful for the move. Currently loving:
NIOD Photography Fluid