This week on LOOKFANTASTIC's Fearless series, we caught up with former BBC Glow-Up star Brana Alunan, who opened up about her inspiring transition story to become the woman she knew she was always born to be. She also gave us an insight on her childhood, transition journey and the impact of transitioning whilst her former self was on the television.
You appeared in Season 1 of Glow-Up. How did you get into makeup and what made you apply?
I was studying fashion in college and for our first collection we had people come in to do the hair and makeup and I didn't like it. I'm a big perfectionist so for our next collection I thought "It can't be that hard I'll just do it myself!". I really found a love for makeup and from then it took over my life.
Glow-Up actually reached out to me! I was excited but a bit sceptical as it was a very casual email with not too much information. After that the application process it was so so quick, you'd go to one audition with loads of people and by the next a lot would be cut. Next thing I knew it was time to film the show.
When did you start your transition?
By the time the show was airing I'd already started my transition. I told everyone on social media so everyone already knew so I think my biggest fear was probably it setting me back. I had this thing in my head that I'd come so far and done all of this work and then the show was going to come out and people were going to see me as I was before. I just had to focus on moving forward and what was in front of me rather than behind.
When were you aware that you were different?
I think when I was really young I didn't realise that I was different, I'd always play with the girls and all my friends were girls. It wasn't until one time in year 2 some kid asked why I was always with the girls because I wasn't one and I think it was at that moment I was really aware that I was different and wasn't who I thought I was.
What was the turning point that lead to your transition?
I guess when I hit puberty I realised it was something that was becoming an issue and it was something that I wanted to solve but didn't quite know how to. The turning point was when I was so low, I knew this TV show was coming out and that I didn't want to live in London. I basically just didn't see my life worth going ahead unless I was living the truth. I knew what I wanted and who I wanted to be and the only thing that was stopping me from that was fear.
Only you can control what you do in life and only you can make those decisions!
What was the process of your transition?
I went to my GP and basically straight up told them that I wanted to transition and had for a long time. I was then referred to the Gender Identity Clinic in London, the wait it 2-3 years minimum and it's the only one that you get referred to in the whole of England. They said that they could put me on bridging hormones so when you eventually get an appointment at the clinic you've already started the process.
I actually didn't tell anyone I was going to transition until I was 18, I kept it to myself for a long time as I didn't think I was going to go through with it. I told my closest friend first that I wanted to transition and she was like "okay that's fine!". I think as I've got older I've surrounded myself with people who are accepting no matter what.
What's been the hardest part about transitioning?
Obviously when you first transition there's going to be mishaps, people are still going to call you by your old name, people are going to misgender you which is still totally wrong but obviously with friends and family who have known you for years, it is going to happen, you just have to set that boundary with them. For me personally, I was working in the salon and people would come in who don't know me or hadn't spoken to me before my transition but were still refering to me in my past self. When people did it I felt they were trying to tell me that I was never going to be the person who I say I am, that's probably the most I've had to deal with people discriminating against me.
I'm now such a strong person and if anyone crosses boundaries or disrespects me I will stand up for myself.
Watch Brana's full Fearless interview over on the LOOKFANTASTIC YouTube channel.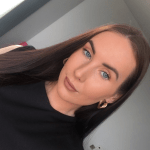 As a beauty fanatic I'm always on the lookout to try and experiment with new products! I've been writing about everything beauty for over 3 years and specialise in skincare so have plenty of tips and tricks to help put blemishes at bay and get your complexion glowing. Whilst being a content writer at LOOKFANTASTIC I've had the opportunity to collaborate with incredible brands including Tom Ford, Dolce & Gabbana and La Mer, taking my understanding of the industry to the next level. In the past I've been a freelance makeup artist and have collaborated with brands including NYX and Revolution Beauty on a personal level, sharing my makeup creations for the world to see. My ride or die brands have to be PIXI, Laura Mercier and Bobbi Brown and I can't live without my trusty MAC Velvet Teddy!