When it comes to finding your signature scent, deciding which one is right for you is no small feat. Choosing a fragrance to suit your personality warrants attention to detail, time, and a little bit of experimentation. Looking to invest in a quality fragrance but don't know where to begin? William Andrews, fragrance expert at global beauty company COTY, shares everything you need to know about luxury scents, and how to choose the right one for you.
What makes a luxury fragrance stand out in the crowd?
A Fragrance stands-out in the crowd because it smells interesting and has enough power to be noticeable, but most important of all, it suits the wearer.
A higher price and access to more ingredients give perfumers more creative freedom, which can result in more distinctive, higher concentrated fragrances. It is also worth considering that a high-priced perfume buys you exclusivity!
Top high-end picks:
How are luxury fragrances typically developed?
Luxury Fragrances are developed by a whole team of specialists, all of whom make contributions to bring that fragrance to market: it's a bit like how a blockbuster movie is created.
The Creative Director at the Fashion House: owns the 'big idea' – they drive the creation and design of the new fragrance.
The Perfumer: the craftsperson who builds the fragrance based on the idea.
Fragrance Evaluators: review the perfumer's work at different stages, suggesting changes based on the brand's olfactive identity and the customer market.
There are also a large number of supporting contributors you may never have considered: Farmers and Chemists grow and create new-to-the-world ingredients for perfumers to use, a team of Quality Control scientists ensure all ingredients have consistent smell from batch to batch, Product Designers create pack designs, Engineers convert the best pack design into bottle and cap molds, and develop new decoration processes, Graphic Designers create artwork for the cartons and specialist printers manufacture the cartons.
How important is it to have high quality ingredients in a fragrance?
All fragrances from reputable brands use high quality ingredients. The fragrance industry is closely regulated, because of the potential allergy risk to wearers from particular ingredients and high concentrations.
The reputable brands are highly accountable and follow all regulatory advice for their fragrance formulations. It is worth mentioning that there is no link between the quality of an ingredient and how much you like its smell; perfumers understand the link between ingredient quality and its benchmark odour note. For the wearer, we simply like the way it smells and how long it lasts, with a beautiful bottle helping to raise its quality perception.
Do luxury fragrances typically have longer lasting scents?
The length any fragrance lasts on skin is determined by how fast it evaporates. Any fragrance labelled as an Eau de Parfum concentration and above (e.g. Parfum, or Elixir), should last all day. However, the length of time changes with different fragrance families: Citrus and light Floral fragrances do not last as long as richer, Woody and Ambery types.
This has nothing to do with quality, it is simply because Woody and Ambery ingredients are heavier, and do not evaporate as quickly. For Citrus and Light Floral fragrance lovers, this means you will have to top-up more frequently when you wear it.
Are luxury fragrances typically more concentrated?
Not necessarily – the perfumer decides which concentration suits their composition. Some fragrances actually smell better at a lower concentration, because it 'opens up' the scent and it subtly changes the balance of notes.
In fact, concentration is slightly irrelevant to the enjoyment of any scent, although a lower concentration will not last as long as a higher concentration.
What are your top 3 luxury fragrance recommendations?
I always recommend the original BOSS BOTTLED Eau de Toilette, by HUGO BOSS, to anyone, because although it was originally marketed to men, everyone seems to love it. It has the most elegant balance between Fruity Vanilla and Spicy Woods, which make it both familiar and desirable at the same time.
For a fresh, universal fragrance, look no further than the original CK One – this is a perfumery benchmark for modern, citrus cologne, and is exceptional. It smells crisp, refreshing and contemporary, I really love the Green Tea and Musk notes.
To experience a new icon, try Perfect by Marc Jacobs. Marc encourages everyone to love being perfect as they are, and this is embodied by the fragrance. The fragrance itself is typically fresh, floral, not too sweet, but charming, with a warm background note of Cashmeran – a man-made molecule, which evokes the feeling of being wrapped in a cashmere shawl.
What's the best way to determine which luxury fragrance is right for you?
When it comes to choosing a scent, you should trust your instinct. If you can smell the fragrance before buying, and really like it on your skin, then that normally suggests that it will work for you, but it may take a few days of wearing to truly decide.
If you are buying on line, read the fragrance description, reviews by people who have worn it, and then go for it! If you make a mistake, give it to a good friend – chances are they will really like it instead.
Top rated fragrances:
What's the best way to store your luxury fragrance?
Believe it or not, the fridge is the best place to store fragrance: cool and constant, no direct sunlight, perfect! If you're not that extreme, then just find a place which is not too hot, steady temperature and out of the sun – that might mean the bathroom shelf is not ideal.
Any fragrance which has been carefully stored should last a minimum of three years, but if you're not using a bottle in three years, maybe you should move on.
Where should you be applying your fragrance for optimum results?
There is no need to apply fragrance just to your pulse points – this is a lovely suggestion, but looks back to the days of bottles with glass stoppers, which ideally needed a warm spot on the body, to apply the fragrance directly from the stopper.
These days, most fragrances have a sprayer, which means you can enjoy freedom of choice, and apply wherever it makes you feel glamorous!
Just remember to keep away from eyes, mouth and freshly shaven skin – it doesn't taste pleasant and it can be uncomfortable on sensitive skin, although it is not harmful.
Myth or fact: rubbing your wrists together 'breaks' the scent?
Myth. Fragrance ingredients are molecular - rubbing your wrists together does not create enough pressure to split the atom!
However, it does create heat from friction, which evaporates the lighter top notes of the fragrance, leaving the main body of the fragrance behind. This enables you to make a more informed decision about whether you like it or not, particularly the 'dry down' of the fragrance.
Shop all fragrance on LOOKFANTASTIC.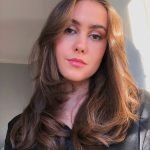 As someone with an affinity for all things beauty, discovering fantastic new products is my not-so-secret obsession. Over the years I've tried and tested a mountains worth of creams, serums and cleansers, finding some of my favourite 'holy-grail' products along the way. However, I'm always on the lookout for more ways to nourish my hair, perfect my dewy base, or enhance my skincare routine. Working as a beauty blogger for over 3 years, I've been lucky enough to collaborate personally with lots of amazing beauty brands including Christian Dior, The Body Shop and Dermalogica. I've used the Dermalogica special cleansing gel religiously since I first got it and their products are some of my ultimate skincare faves. When it comes to cosmetics, NARS Sheer Glow foundation is definitely my go-to - I live for a light, glowy base!