SPRING HAS SPRUNG, SO LET'S CELEBRATE WITH THE APRIL 'BLOSSOM' BEAUTY BOX!
With 6 products inside, worth over an incredible £137 this month, our Beauty Box is perfect monthly pick me up – and just what you need to get picnic in the park ready.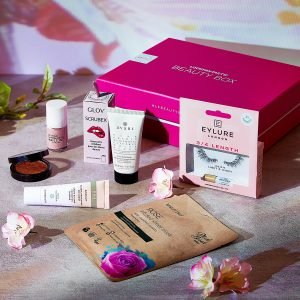 This month's box is the highest-valued box we've had so far this year...if that doesn't take your fancy, we don't know what will! Click here to subscribe now.
What's in the box?
Avant Pink Orchid Subtle Restoring Overnight Serum – full-size - worth £92!
This overnight facial serum helps hydrate the skin and combat signs of stress and fatigue. It's also formulated to support your skin when it's most susceptible to treatment. Pink Orchid is an ingredient that improves skin elasticity and plumps out fine lines and wrinkles, for a more youthful appearance with regular use
GLOV Scrubex – full-size – worth £12.90
A tool designed to both exfoliate and treat cracked, chapped lips and encourage blood circulation for a fuller pout. Expect to see results immediately!
Eyelure ¾ Length No.011 Light & Wispy Lashes – full-size – worth £5.95
Lightweight lashes to give your makeup look a bit of added oomph! With a winged shape to elongate the eyes, designed to give fullness whilst still looking delicate. Quick to apply and gentle to remove, with glue included for easy use.
Nails Inc Mayfair Lane Nail Polish – full-size – worth £11 OR Bellápierre Cosmetics Eyeshadow (Shade 2) – full-size – worth £20
Nails Inc - A salon-quality nail polish to help you get a professional-looking manicure from the comfort of your own home. This natural, pail pink colour is shiny and highly pigmented — perfect for creating a wide range of nail looks. With an easy-to-use brush for speedy, mess-free application.
Bellápierre - This pigmented, shimmery eyeshadow in a gorgeous copper colour is great for taking your eye makeup looks to the next level. With little to no fallout and strong staying power. Easy to blend and great for those wanting to add a pop of colour to their makeup routine.
REN Evercalm™ Global Protection Day Cream – 15ml – worth £10.58
A daily moisturiser, enriched with a powerful blend of antioxidants and soothing seed oils to calm and nourish your skin. Designed to protect your skin against dehydration and external aggressors, to tackle signs of premature ageing.
Beauty Pro Rose Infused Sheet Mask – full-size – worth £4.95
A botanical based face mask formulated to heal and soothe. Part of Beauty Pro's plant-based range, filled with superfood ingredients that act as anti-inflammatories to minimise redness. Anti-ageing and great for targeting oily, blemished skin. Also fully biodegradable.
As our lives get that bit busier, don't forget to take some time for yourself. Let our Beauty Box be a helping hand. Subscribe now from just £13!