The most luxurious of skincare packages, curated by LOOKFANTASTIC and London's most sought-after facialist…
Introducing the LOOKFANTASTIC x Sarah Chapman Limited Edition Beauty Box – a start-to-finish skincare regime, recommended by Sarah Chapman herself, to start you on your journey to a naturally beautiful complexion.
Filled with 5 premium skincare products and an effective facial tool, this limited-edition box is worth over £184. Get yours today for just £70!
Subscribed to the lookfantastic Beauty Box? Click through your early access email* and shop the Sarah Chapman Limited Edition Beauty Box for only £65.
Not subscribed yet? Subscribe today and get yours for just £65 when you use code SCBBNEWSUB
What's inside the LOOKFANTASTIC x Sarah Chapman Clean Skincare Limited Edition Beauty Box?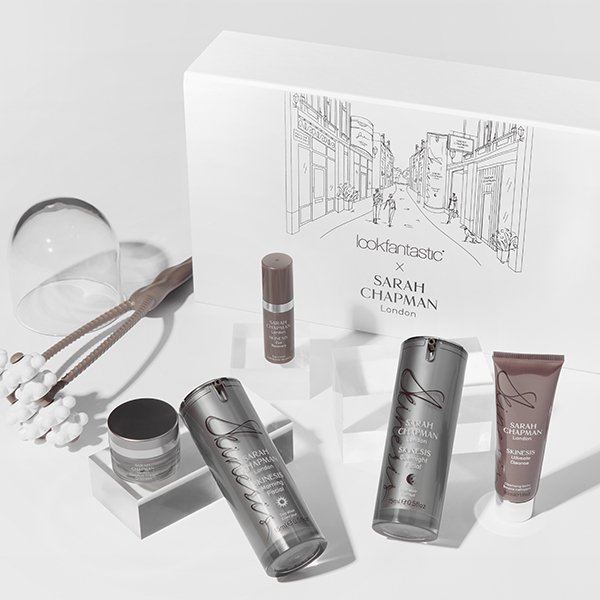 Ultimate Cleanse (30ml) – worth £17.50
This balmy, omega-rich cleanser instantly melts onto the skin. The intelligent aromatic infusion with vitamin A works deep into the pores to melt impurities and remove all traces of dirt and make-up, including waterproof mascara, leaving the skin feeling soft and hydrated.
Eye Recovery (5ml) – worth £19
This brilliantly effective eye cream is designed to help reduce the appearance of lines, wrinkles, puffiness and dark circles with its unique blend of five peptides, antioxidants, vitamins and light-diffusing technology. Formulated to increase hydration and stimulate collagen and cell activity, to help smooth and plump the eye area.
Comfort Cream D-Stress (5ml) – worth £12
This nourishing formula is designed to soothe new-age sensitivities and fortify the skin's barrier in defence against modern life aggressors. The skin barrier is restored, redness is reduced, irritation and discomfort are instantly eased. The result? A hydrated, plump and smoother complexion.
Overnight Facial (15ml) – worth £54
This award-winning, silky, serum-oil elixir recreates all the benefits of a Sarah Chapman Skinesis facial overnight, from the comfort of your home. The sophisticated power-potion combines cosmeceutical performance-proven actives with soothing anti-inflammatory omegas to protect your skin and keep it comforted. Also infused with vitamin A and vitamin C to rejuvenate and brighten.
Morning Facial (15ml) – worth £52
This silky power potion is a lightweight, youth boosting elixir, expertly formulated with cosmeceutical technologies, botanical oils and filling spheres to maximise radiance, intensely hydrate and plump fine lines every morning. High levels of effective  actives fight wrinkles, plump out lines and deliver intense and long-lasting skin cell nourishment for more firm and elastic skin.
The Facialift (tool) – worth £30
To take your skincare regime to the next level, this innovative facial massager is exactly what you need. Promoting toned and glowing skin by mimicking the techniques of a professional Sarah Chapman facial massage from the comfort of your home, encouraging blood flow and boosting the supply of vital nutrients and oxygen to your skin, draining toxins and reducing puffiness.
We're predicting a fast sell-out, so don't miss out! Shop the LOOKFANTASTIC x Sarah Chapman Limited Edition Beauty Box now…